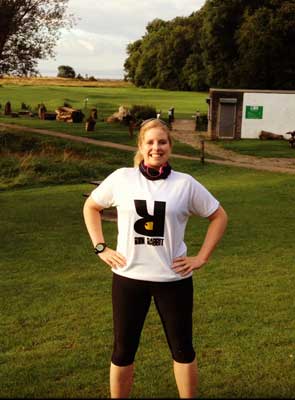 It has just been announced that Prince William will be starting the event.
This weekend I am taking part in the Ring of Fire Ultra. 131 miles, 13, 695 feet of vertical ascent, and a circumnavigation of one of my favourite places on earth…. Anglesey!
This wont be the first time that I have ran this route. In early 2012, I ran the entire perimeter of Wales on the Wales Coast Path and the Offa's Dyke path (Dragonrun1027) in memory of my parents, and to raise money for two very special charities, Velindre Cancer Centre and Gozo CCU Foundation. It was over 1027 miles, 125,587 feet of vertical ascent, and I completed it in 40 days. For a number of reasons though, the Ring O Fire this weekend is going to challenge me in a whole different way!
The past 18 months has been a rollercoaster with regards to training. I was meant to take part in this race last year, when I felt at my peak mentally and physically, but just three weeks prior to the race, whilst on a short trail run, I rolled my ankle on a rock, and got myself a nasty fracture and some subluxed tendons to make sure that I was fully out of action. My initial reaction was that I was going to complete the race, even if I had to do it on crutches (mentally strong, or just plain stupid?!). It soon became apparent that this was not an option. Six weeks later, I was told by a medical Consultant that I could forget about ever trail running again (nothing like a positive outlook being given after a 10 minute appointment). My reaction to this was to focus on my own rehab, and to do it properly (I'm usually very good at the "do as I say, not as I do approach", this time it was going to be different).
So, six months of strengthening, proprioception, and tentative road running later, I went on my first trail run, it was short, I was cautious of rocks (not the best fear for a trail runner!), but I felt free again. It was very clear, however, that I still had a long way to go!
I enlisted the help of Dean Fouache, A top Strength and Conditioning coach based in Cardiff. Dean had the attitude that I needed, a kick up the backside and a no such word as can't attitude. It was refreshing as by this point, I had had enough of people telling me that I wouldn't be able to run ultra distances again, that I should accept that it was my body's way of telling me to stop, blah blah blah blah blah. You can hear so much of that, that you can be in danger of believing it.
So, physically, I was getting back on form. This is where I made a mistake though, I had assumed that because I had the mental strength to complete the Dragonrun1027, and because I had found the determination to get back from injury, that my mind was still strong enough to cope with the pressure of ultra…… I was wrong!
I decided to throw myself back into the running world with Cardiff Ultra in May this year (I know, I know, why not start with a 10K, or a half marathon?!) and for the first 16 miles, I was on top of the world! However, that feeling began to change. It was the warmest day that we had had so far this year and I wasn't best prepared for that. I started to feel the effects of the sun just before the second checkpoint, and at 22 miles decided to take a break for 10 minutes and then continue, that was when I hit the floor. Sunstroke it would appear was going to be my nemesis that day, but more than that, my own mind was the real culprit. I was devastated. I didn't expect to be so angry at myself about it, but after a couple of days of sickness, dark rooms and beating myself up about it, I started to dissect the situation. Over all, I was ill prepared. I'd focussed on being able to run again, that was no problem, but my lack of preparation for environmental conditions, and my lack of thought as to all the lessons I had learnt during my run around Wales had contributed to my DNF. The old me would have made alterations early enough to have prevented the sun from getting to me. I would have remembered that I found it much harder to take on enough fluid when using a bladder, and paid more attention to my hydration instead of getting caught in the moment. I would have taken a hat, worn sun cream and ensured I was refuelling properly from the start. These things, however, wouldn't have guaranteed that I finished that day. My mind would have had to have won the inevitable arguments with my body over the difference between pain and PAIN, and between tiredness and exhaustion. Looking forward, without this experience, I wouldn't have prepared for the Ring O Fire anywhere near as thoroughly as I have!
Since May, I have planned the Ring O Fire in fine detail. I've trained for as many eventualities as I could think of. One benefit I have for this ultra is that it is on a route that I have ran before as part of the Dragonrun1027. It's a section that I remember very well, and am able to visualize for the most part. I've done my long runs on terrain that mimics the actual route, I've done cliff top and forest runs at night, tested kit, worked out optimum hydration methods, practiced cow herding etc, etc.
I have the drive of my fundraising to help me push forward, as I'm still aiming to raise a total of £25K for my two charities.
So, I will be going into this weekend nervous, but prepared and most of all excited to have the opportunity to run the Anglesey Coast Path again!
For more information on Dragonrun1027 and why I run for Velindre Cancer Centre and Gozo CCU Foundation, please visit:
www.dragonrun1027.wordpress.com
www.justgiving.com/dragonrun1027
For info and training with Dean Fouache visit http://www.core-conditioning.com/