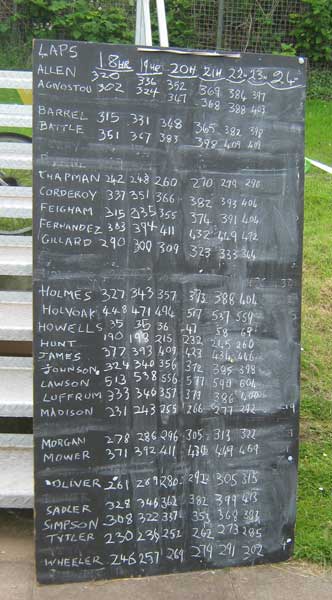 Commemorating Dave Dowdle's setting of the British 24 hour record in 1982,  a new 24 hour race was held at the recently refurbished Blackbridge Jubilee Athletic Track which started at noon on Saturday June 14th.
Leading from start to finish was Dan Lawson making his debut at the 24 hour distance who set an amazing pace that was on target to break Dave Dowdle's 33 year old British record. Tired legs in the latter stages forced Dan to slow down but such was his lead that he still won comfortably with 242 km.
Steve Holyoak took a more modest approach and was 0nly 10 k behind the leader at the close finishing with 232 km. Paul Fernandez finished strongly a fraction short of 200km.
In the womens race Helen James dominated to finish with 183 km, 11 ahead of local runner Angie Sadler who ran a steady race to edge Victoria Luffrum by 3 km.
The race began in warm and bright conditions with the best wishes of local MP Richard Graham who ran a lap with the field of 38 runners which included Dave Dowdle himself. The temperatures soon began to sizzle and the first four hours turned into a real cooking session broken later by a heavy shower. Things settled down after that though and everyone was impressed by Dan Lawson's impressive speed. Also running very strongly early on was Maltese ultrarunner who set what would have been a new age group record with his 8:55 100 km if the IAU hadnt recently decided to ignore surface type and whether an event was indoor or outdoor by combining all performances into a single category. Disappointing as this was for Victor it was still a remarkable achievement and we sincerely appreciate his effort.
Gloucester City Council leader Paul James came to the post race celebration to hand out awards and prizes and he acknowledged all the help that went into hosting the event and I would like to echo that thought. There aren't many 24 hour races in the UK at this time, two track events on the calendar in England this year with the long running Self-Transcendence 24 hour at Tooting Bec in September the only other such event.
Online race results: wildboar.racetecresults.com
Full results including the final partial lap. Gloucester 24h Track results
Race website: Gloucester 24h Track Race