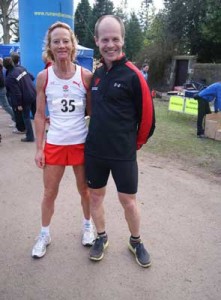 The Gloucester 24 Hour Track Race takes place June 14th 2014 at the refurbished Blackbridge Jubilee Athletics track. With the World and European 24 hour championships postponed at least until December – currently the IAU is hoping to hold the event at Soochow University in Taiwan – this is another opportunity for serious runners to put in a good track performance. Its a great opportunity for anyone to see how far they can go in 24 hours.
The track will be lit all night and there will be hot food available as well as hot and cold drinks trackside. With the support of Gloucester AC, this chip-timed event commemorates Dave Dowdle's then World record at the 24 hour distance which he set in 1982 with 274.480 km, 170 miles 974 yards. This is still the UK record though the World record has changed hands several times until Yiannis Kouros ran 303.506 km/188.590 miles on a track during the Sri Chinmoy Ultra Festival in Adelaide, Australia in 1997.
The womens world record is held by Mami Kudo from Japan who ran 255.303 km/161.126 miles in Taipei in 2011. The current UK womens track record is 240.169 km, 149mi 412.01yd set by Eleanor Adams in August 1989.
With a range of runners already signed up including Angie Sadler and Jeremy Mower, Paul Fernandez and Grant Jeans, this event is suitable for anyone wanting to gain experience at this level or to test the waters at entry level as a debut. Runners can run as far as they wish and at whatever speed they wish – there is no minimum. The challenge is to see how far you can go in the given time period. Rest break at any time is acceptable though a long sustained break should be mentioned to the Race Director.
With the majority of the ultrarunners being local, this event promises to produce a great West Country atmosphere that will be a memorable experience.
Registration is via Entry Central
More details are available on the race website at: http://gloucester24hourtrackrace.com/