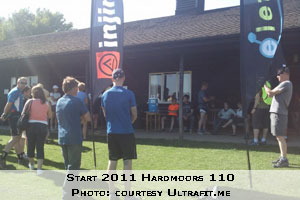 Glorious weather prevailed for the 26 starters of the 2011 Hardmoors 110 mile race on the Cleveland Way. Despite the good weather, this is a long race and 12 people made it to the finish line.
Neil Ridsdale set the course record in 2010 taking 3 hours off the old record and this year improved upon that again this time by 5 minutes. Top British ultrarunner Sharon Gayter was first lady and third overall maintaining a string of wins after her success in Holland at the Texell 120 km race and the 6 day in Athens.
Provisional Results
26 starters. 12 finishers
1st Neil Ridsdale 20hrs 58mins
2nd Dave Kamis 24hrs 04mins
3rd Sharon Gaytor 24hrs 21mins
4th Jonathan Steele 25hrs 36mins
5th Shelli Gordon 27hrs 05mins
6th Steve Wathall 28hrs 59mins
7th Ashley Innes 29hrs 22mins
7th Steve Walker 29hrs 22mins
9th Bren Morgan 29hrs 45mins
10th Simon Walters 30hrs 14mins
11th Gary Warmington 32hrs 51mins
12th Aneurin Rainbird 34hrs 28mins
Race website: Hardmoors 110
A video on Simon Walters who finished in 10th place.