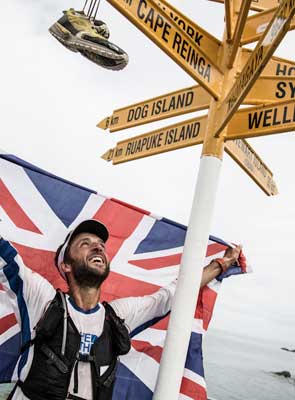 Jez Bragg Finishes New Zealand's Te Araroa Trail In New Record Time Under Human Power
British Ultra-Runner Becomes the Fastest Man to complete the 1,898mile North-to-South Trail in a Record-Breaking 53 days
The North Face® are pleased to announce that British ultra-runner Jez Bragg has successfully completed New Zealand's arduous Te Araroa Trail, entirely under human power, in just 53 days – nine days quicker than the previous record.
Setting off from the top of the North Island in Cape Reinga in December 2012, The North Face® athlete Jez Bragg began well, completing the first section ahead of schedule. Making his way down the Trail, Bragg's pace slowed due to difficult conditions underfoot including a hard tramp through multiple forest sections. Weather conditions became a significant factor as Bragg experienced some unseasonably wet spells in the North Island, and, in the latter stages on the South Island, considerable heat. The Cook Strait was a pivotal point in the success of the expedition; a perfectly timed weather window ensured the crossing by kayak went without a hitch.
Mid-way through the South Island, Bragg's fastest time attempt was threatened when he was struck down with Giardia. Supported by crew doctor, Dr Mark Taylor, Bragg was able to return to the Trail after three days. Keeping fuelled and hydrated was an additional challenge to the British ultra-runner, who normally races events such as the world-renowned 168km The North Face® Ultra-Trail du Mont-Blanc®. Bragg had to vastly increase his calorie intake, eating daily cooked breakfast, pasta lunch, big evening meal interspersed with snacks of 400g chocolate bars and ice-cream to keep up required energy levels.
Bragg comments, "The Te Araroa expedition started as a dream several years ago. I have always wanted to take on an epic, multi-day run; the newly created Te Araroa Trail running the length of New Zealand fitted the bill perfectly. What better way to explore one of the world's most beautiful countries! The Cook Strait kayak crossing was admittedly a bold plan but it was integral to the expedition, so having pulled it off is very special.
Each day of running on this epic trail has presented significant challenges. The terrain has been far rougher than anything I've experienced elsewhere in the world, so patience, determination and core strength have been key. I also suffered with the dreaded Giardia bug midway through the South Island. My body is weary and my mind worn out, but the job is done. The pain will fade with time leaving the most incredible set of memories. I would like to sincerely thank my support crew, friend James Ashwell and father-in-law Mark Taylor, who have provided me with incredible support and dedication to allow this project to succeed. Having completed the Trail, my dream has come true."
Jez Bragg's expedition kit came from The North Face® Spring 13 collection including the Ultra Guide performance shoe and the Better Than Naked Tee and Shorts. In line with The North Face® 'athlete tested expedition proven' philosophy, Bragg also tested specifically engineered product proto-types.
For further highlights and images on the Te Araroa Expedition, The North Face® performance athletes, trail-running products, and upcoming events, visit: thenorthfacejournal.com