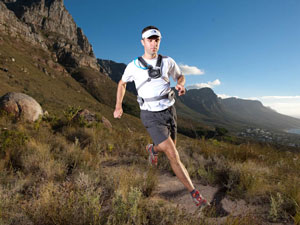 Going the Distance with Jez Bragg
The North Face® sponsored ultra-distance runner, Jez Bragg has just jetted off to California in preparation for one of the oldest and most challenging ultra trail events in the world – The Western States 100 mile Endurance Run.
Jez has had a flying start to the year, giving outstanding performances in the Celtic Plate 100km Championships, finishing first and creating a bit of a stir coming in under 7 hours, something that a UK athlete hasn't managed to do for 5 years. He also let fly with a new course record at the 53 mile Highland Fling race, and strolled in first at The Fellsman last month.
But now, as Jez said "This is the biggy! It's the all singing and dancing US 100 miler where all the top guys are competing this year. The remoteness of the trails makes this very different from other races, so the mental preparation is as important as the physical".
The Race begins at 5am on 27th June and will start at Squaw Valley, California. It takes the runners through original trails used by the gold and silver miners of the 1850's and along unforgiving remote and rugged territory, ending after a 22,900 feet descent before reaching the finish line in Auburn.
Jez has packed his The North Face® Voza's, which are proving to be his perfect running partner. They are the only thing he has been running in (shoe wise!) this year, and will help him keep on track for the US100.