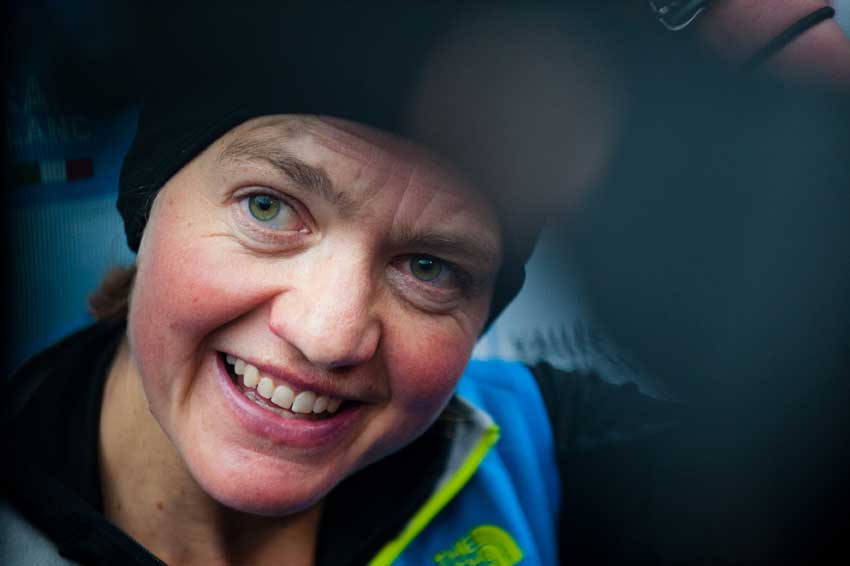 The North Face® ultrarunner Lizzy Hawker Sets New Everest Base Camp to Kathmandu Speed Record
Lizzy Hawker breaks her own Everest Base Camp to Kathmandu speed record by more than eight hours.
On Saturday 18th April at 10:10pm, the British endurance athlete Lizzy Hawker, 37, completed a 319km run from Everest Base Camp to Kathmandu, Nepal in 63 hours 8 minutes. Hawker began on Thursday at 7:02am. She reached Jiri on Friday at 6pm where two support runners joined her until Kathmandu. During the 3-day run she rested frequently but slept, in her estimation, for just 4 minutes.
Internationally renowned Hawker remains the world record holder for the 'Everest Mailrun' the route taken by those carrying letters to and from expeditions at Everest Base Camp. It's one of Nepal's wildest trails that few have tried to claim. The route is brutally hilly with more than 10,000m of ascent and nearly 14,000m of descent on a mixture of rocky trails and tarred road.
When describing what drew her to completing the run for the third time, Hawker said it was "The stillness and beauty of early morning in the awesome mountains of the upper Khumbu. A dark, rainy evening approach to the pollution and gentle chaos of Kathmandu. Long stretches of being entirely alone. The precious company and support of good friends. Feeling rawness and vulnerability, and yet finding a strength in body, mind and spirit. Living in the moment". The whole experience was simply described as a "A wild and wonderful journey of contrasts".
World champion endurance runner Hawker will remains in Nepal until the end of the month to race the 8-stages "Mustang Trail", a multistage trail running challenge through the wild, spiritually rich landscapes of Upper Mustang.
Resources
http://iancorless.org/2013/04/28/lizzy-hawker-to-tame-the-mustang/
For further information on The North Face® performance athlete Elizabeth Hawker, click here: http://thenorthface.com/blog/eu/en/elizabeth-hawker
For additional contents on The North Face® athletes team, race highlights, trail-running products and upcoming ultra-running events, please follow the link: www.thenorthfacejournal.com