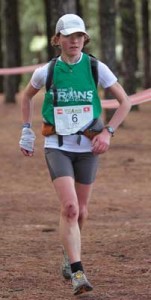 Globe-trotting Lizzy Hawker, after winning the womens race in the Annapurna 100 in January, is first woman and 13th overall at the 123 km Transgranaria ultramarathon.
North Face Press Release:
For immediate release, Lugano, Switzerland, March 6th, 2011: The North Face®, the world's premier supplier of authentic, innovative and technically advanced outdoor apparel, equipment and footwear, celebrates 1st place wins for The North Face® athletes Zigor Iturrieta (ESP) and Lizzy Hawker (GBR), and 3rd place spot for Sebastien Chaigneau (FRA), at the 123km ultra-race The North Face®
Transgrancanaria, Gran Canaria, Spain, 4-6th March, 2011.
The North Face® Transgrancanaria took place in unusually cool and wet weather conditions for the time of year. To the sound of the starter gun at midnight (GMT) Friday 4th March 2011, 282 ultra-runners from Spain and Europe took part in the headline 123km race. Starting at Playa Del Ingles, in the south of the island, it was a long night's run through the island's national park exposing spectacular and varied mountainous terrain. Runners climbed to an accumulated height gain of 8,500m, to a maximum height of 1,949m at the highest point of the island, back down to sea level through Saturday morning to the finish line at the capital Las Palmas de Gran Canaria in the north.
Spaniard ultra-runner, and newest addition to The North Face® performance athlete team, Zigor Iturrieta (ESP), was ecstatic to take 1st place, finishing strong with a time of 13h:22m:37s. Upon his win Iturrieta stated: "The race was very fun, very entertaining but very, very hard." Pipped at the post for 2nd place by just seven minutes, Hungarian runner Csaba Nemeth claimed the spot, whilst renown French athlete and The North Face® team athlete, Sebastien Chaigneau (FRA) took a very respectable 3rd place with a time of 13h:45m:05s. Both Iturrieta and Chaigneau wore trail-running shoes from The North Face® Single Track series. Iturrieta also wore the newest addition to The North Face® product running range, compression socks.
In the women's category, The North Face® accomplished multi-sport athlete, Elizabeth 'Lizzy' Hawker (GBR) ecstatically claimed the 1st place win and 13th overall, as 2011 unfolds to be a successful year for her. Arriving at a time of 15h:55m:47s, nearly a full hour ahead of second place finisher, Nerea Martinez (ESP), smiling and in a relaxed mood, and despite a few falls, Lizzy explained: "My knees took a bit of a bashing but I'm happy to be here and share the race with everyone."
The North Face® Transgrancanaria featured races for all levels of runners at various distances: from the full 123-km race; a coast-to-coast 96-km race; a 42-km marathon; and a starter run of 24-km. Over 1400 competitors started the race.
For full results visit www.transgrancanaria.net
Follow The North Face® European ultra-running events throughout the season:
The North Face® Laveredo Ultra-Trail, 2nd-3rd July 2011
The North Face® Ultra-Trail du Mont-Blanc®, 22-28th August 2011
For further information on The North Face® performance athletes, The North Face® Transgrancanaria race highlights, trail-running products, upcoming ultra-running events, and the Get Ready For Ultra-Trail video training series, click:
web http://eu.thenorthface.com
facebook – http://www.facebook.com/thenorthface