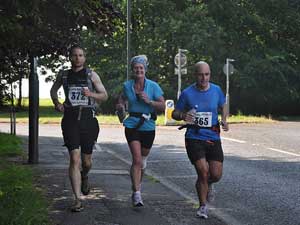 The Long Eaton 50 mile and Relay took place 11th June 2011. The event started and finished in Breaston with 24 runners in the solo division and 4 teams of 6 runners each took part in the relay.
Duncan Sadler commented on Runners World forum "Organisation was excellent (especially as this was the first time this race has been run). The organisers and fellow runners were extremely friendly and supportive.
The course itself is about 98% off road, consisting of canal trail, fields, bridle paths, lots of stiles, a few hills and a set of very steep steps!
Refreshment stations all well stocked and manned by enthusiastic volunteers, lots of food and drink cakes/sandwiches etc and a free bowl of soup at the end! Definitely recommended and an ideal first 50 miler for budding Ultra runners."
Carolyn Hopkinson finished first woman and ultrarunning legend Eleanor Robinson ran to finish third lady. Well done Eleanor!
Men
1. Duncan Sadler 7.51
2. Gary Attewell 9.08
3. James Watkins 9.09
4. Peter Mensley 9.09
5. Andy Brooks 9.17
6. Simon Robinson 9.17
7. Oliver Jeffcote 9.25
8. Peter Stockdale 10.03
9. Ian Boardley 10.29
10. Tony Hunter 10.29
11. Ian Coldicott 10.35
12. Kallam Pritchard 11.12
13. Philip Sugden 11.12
14. Neil Gordon 11.14
15. Stephen Turnough 11.17
16. Paul Stead 11.19
17. Sean Milner 11.59
18. Paul Beasley 12.32
19. Alastair McDonald DNF
20. Zhengxu Wang DNF
Women
1. Carolyn Hopkinson 9.17
2. Ana Garcia 10.51
3. Eleanor Robinson 10.54
4. Helen Horrobin 11.14
Race website – 50 mile results