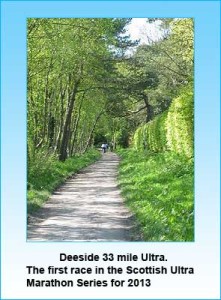 The Scottish Ultra Marathon Series 2013 has extended its calendar for the coming season. All the Scottish ultramarathons have been invited to take part in the series and its hoped that all will be part of this exciting annual challenge.
Last year's Series consisted of 9 ultras.  This year there will be 15 ultras taking place in Scotland plus the Caledonian Challenge which is a team event.
Last year's winners were Gareth Mayze and Rosie Bell.
The 2013 Scottish Ultra Marathons
For more details visit the Scottish Ultra Marathon Series website