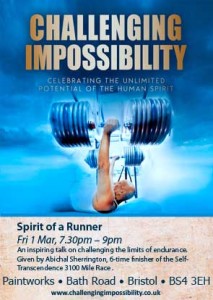 Abichal Sherrington will be giving a talk at the week-long Challenging Impossibility exhibition in Bristol Fri 1 Mar, 7.30pm – 9pm.
The theme of the exhibition is Self-Transcendence in action and some of the machines that Sri Chinmoy used to lift immense weights will be on display in the UK for the first time. Sri Chinmoy said "With my weightlifting, I am trying to inspire and encourage people of all ages to transcend their own limits. "
Abichal has taken part in the worlds longest certified footrace, the Self-Transcendence 3100 mile race, six times and will be bringing his insights and experience in the world of multiday running to offer an integral approach to challenging our limits.
The evening will also include a screening of the short film "Spirit of a Runner".
This is a free event and will take place at:
Paintworks • Bath Road • Bristol • BS4 3EH
See more details about the week long event at : www.challengingimpossibility.co.uk