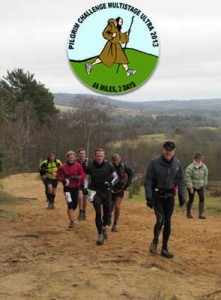 A record-breaking start to the 2013 race series
Extreme Energy's 2013 race season got off to a record-breaking start last weekend, with Danny Kendall shaving 17 minutes off the previous course record to finish the 64-mile, 2-day ultra-marathon course in 8 hours 49 minutes and 21 seconds, and Annabelle Stearns breaking the women's record to finish in 10:23:07.
Where last year's Pilgrim Challenge was memorable for its snow, this year's race will be remembered by many for its deep, shoe-sucking mud.
"My favourite comment this weekend was from a smiley cyclist who very cheerily told me to "Embrace the mud". Great advice – there was little else you could do!", recalled Extreme Energy Envoy Michelle Double (3rd lady, 12h05.25)
The Pilgrim Challenge course follows a section of the historic North Downs Way from Farnham to Merstham, and heavy going at the end of day one saw runners digging deep into their energy reserves. The same muddy conditions made for a challenging start to day two, but with the evening entertainment from motivational speaker, ultra-legend and Enduroman-record breaker Andy Mouncey fresh in their memories, 150 of the 217 registered walkers and runners battled on to make it to the end of the gruelling course.
18 hours separated the first of the runners and the last of the walkers, with the final finisher coming home to resounding cheers after an impressive 26 hrs 49 minutes out on the course. From veteran UTMB points-collectors to ultra-marathon virgins, the field included walkers and runners at every stage in their ultra careers, with a 44-year age gap between the oldest and youngest finishers. As second-placed lady, Jennifer Bradley (11:37:17), put it:
"This weekend isn't just about the racing… XNRG create a really inclusive, encouraging atmosphere for everyone and it was a lovely moment when Andy's talk was halted about 8pm to cheer in Day one's last three finishers (still smiling!) who must've been out there for 12 hours."
Extreme Energy Race Director, Neil Thubron, said,
"Our largest field, a course breaking winning time, the longest time out on the course for a finisher, and an awesome overnight just created the perfect ultra trail running weekend and a great start to the year. We were inspired by the efforts of all competitors and humbled by the fantastic feedback we have received. The course is tough enough with some very large climbs over the 33 miles each day, but add to that very wet and muddy ground to suck away your energy and you have a very challenging 2 days work!"
The Pilgrim Challenge is the first of six ultramarathons organised by Extreme Energy in 2013.
| | | |
| --- | --- | --- |
| Place | Runner | Time |
| | Top Men | |
| Men | | |
| 1 | Danny Kendall | 08:49:21 |
| 2 | Sondre Amdahl | 09:02:17 |
| 3 | Robbie Britton | 09:09:29 |
| | | |
| | Top Women | |
| Women | | |
| 1 | Annabelle Stearns | 10:23:07 |
| 2 | Jennifer Bradley | 11:37:17 |
| 3 | Michelle Double | 12:05:25 |
| | | |
See  ww.xnrg.co.uk for more events and full results.