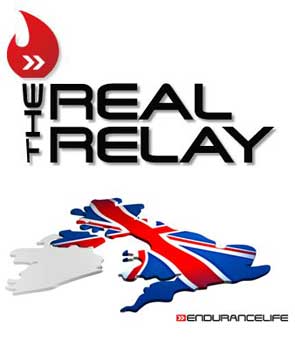 The Endurancelife Real Relay is an attempt to run the route that the Olympic Torch is taking around the UK in a non-stop journey, running every step of the way.
Many people thought that the Torch run would run the entire distance but in trying to cover as many towns and areas of denser population, the organisers decided to drive between those areas.  Endurance life have come up with a plan to cover the route the torch takes covering the 8000 mile route and still arriving in London  in time for the Olympic Games opening ceremony.
The relay starts out from Land's End at midnight tomorrow, 2th8 May, ten days behind the official Olympic Torch, the Real Relay will involve hundreds of runners from across the UK running day and night. Anyone can join in as long as you are able to  maintain a minimum pace of 10 minutes a mile.
All runners who sign up for a stage of the Real Relay are asked to donate a minimum of £10 to CHICKS, a charity providing week-long respite breaks for disadvantaged children from across the UK. Donate online via Virgin Money