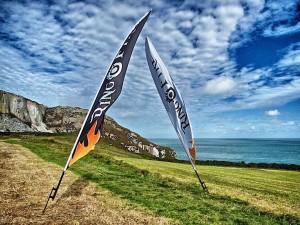 The Ring O' Fire 2015 will take place 4-6th September 2015. Now its fourth year, 118 runners will attempt to complete the grueling 135 mile course around the coastal path of Anglesey.
Race Director, James Bingham said: "We're proud to organise the fourth Ring O' Fire ultra-
marathon on Anglesey. It's a privilege to share the stunning coastal scenery of Anglesey
with the worldwide running community and its followers. Despite its outstanding beauty,
the course should not be underestimated – this is without doubt among the toughest ultra-
events in the UK. The 135 mile distance, arduous terrain and 13,695 feet of vertical ascent
make this a mammoth undertaking. Yet again, this year, we have an amazing group of
runners ready to take on the challenge."
Entrants this year include:
• Jonathan Fletcher, Former Parachute Regiment Soldier, running with his dog 'Otto', raising money for various military charities: www.airbornemuttley.com
• Neil Howie, received chemotherapy for bowel cancer in April 2014. Ran the London Marathon in April 2015 and running the Ring O' Fire for Bowel Cancer UK
• John Thompson, from Benllech, born in 1942 – taking on the course for the third time
The race will start at Breakwater Country Park, Holyhead on Friday 4th September at 13.00. From there, the runners will face a 35 mile run to Amlwch. Day two is the longest  day of running as participants attempt the 66 miles to Aberffraw. On the final day, the remaining ultra-runners will complete the circumference of the island, finishing back at Break Water Country Park.
About
Ring O' Fire is an annual 135 mile coastal ultra marathon circumnavigating the Isle of Anglesey, North Wales. The Ring O' Fire first took place in 2012. In 2013, the race was officially opened by the Duke and Duchess of Cambridge. Between 2012 and 2014, 366 signed up but only 137 people completed it.This race is a real  challenge.
For more information about the race visit: www.ringofire.co.uk/