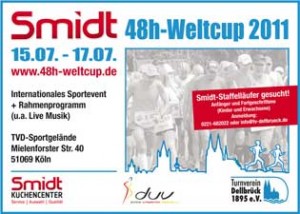 Orkney-based ultra marathon runner, William Sichel (57), was the surprise winner of the Cologne 48 Hour World Cup track race in Germany. William ran 208 miles to win his first ever 48 hour race in a long, ultra distance running career.
A strong field of 42 athletes toed the line with the local favourite Wolfgang Schwerk taking an early lead in warm, humid and dusty conditions on the cinder track.
The first major surprise, after about 7 hours, was the withdrawal of Schwerk, shortly followed by last year's winner Hans-Jurgen Schlotter suffering with knee and chest problems. The Norwegian Sjavik then took the lead with William in about 7th place.
William ended the first day with just over 116 miles and eventually took the lead after 34 hours. Over the course of the remaining 14 hours, William gradually extended his lead by long hours of steady running and just very short breaks, as and when required.
The course of the race was heavily affected by about 10 hours of torrential rain over night, which caused extensive flooding of the poorly drained, cinder track. Runners were forced to wade through ankle deep water for some hours, before being allowed to leave the track and run on the grass verge, before the track was drained the following morning.
"Without the flooding problem, I would have almost certainly broken the Scottish track record I was aiming for but I was pleased with how I coped with the extreme conditions and was really surprised to win this one."
William's Cologne distance set new British and Scottish 48 Hour, Age-Group track records.
The Women's race was won by Finlands Maria Tähkävuori with 307,608 km and 42 runners took part
Full Results: www.lg-duv.de
William Sichels website: www.williamsichel.co.uk