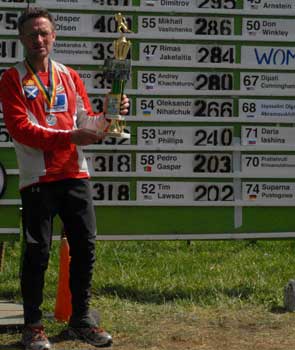 NEWS from Orkney's William Sichel's Self-Transcendence 6 Day Race
Sichel takes third place in epic New York 6 Day race
Orkney-based ultra marathon runner, William Sichel (58) became the first British athlete in history to make the podium in the 15th edition of the Sri Chinmoy 6 Day road race held in Flushing Meadow Park, New York from April 22nd – 28th.
William covered a total of 461 miles to finish in 3rd place overall (1st in the 50-59 age group) from a field of 23 starters. The race was won by the Ukrainian Galya Balatskyy with 481 miles with the Finn, Asprihanal Aalto just 9 miles ahead of William.
Severe weather during the first two days meant that this wouldn't be a record setting event, but a competitive race to the finish.
"Conditions were really brutal, especially in the first 48 hours and this made it one of the toughest multiday events I have ever done. It was also the most competitive, with 3 strong runners competing hard right to the end. I also had to put up with a sinus infection, which developed during the race and didn't help."
William was an unexpected leader during day two and then remained in second place, right up to the last day, when a revived Aalto, picked up his pace and passed William to take 2nd place close to the end of the race.
"Aalto took me a bit by surprise, as it is usually me that has the strong finish. I couldn't respond and he was a worthy 2nd place finisher. We all pushed each other during those final hours, no one wanting to give an inch."
—–
William is a member of the Orkney Athletic Club and is currently engaged in Project 60@60 in which he is attempting to have set 60 ultra distance records, at World, British and Scottish level, including age-groups, before his 60th birthday on October 1st 2013. Currently William has set 58 records, including 6 World Age-Group records.
William would like to thank his crewman Alan Young and blog master Shaun Brassfield-Thorpe from ULTRAFitnessTraining.com who updated William's blog during the race.
William is grateful to sponsors Loganair and Myprotein.
Photo: William Sichel
Editor's Notes
www.williamsichel.co.uk
www.williamsichel.co.uk/blog
Facebook: http://www.facebook.com/profile.php?id=1012282677
Twitter: http://twitter.com/#!/williamsichel
youtube: http://www.youtube.com/user/williamsichel