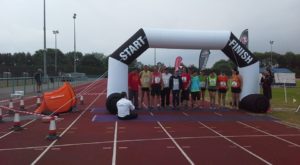 Unfortunately the results previously posted were not the full 24 hour results and this is the amended version. Apologies for any inconvenience.

The 2nd Annual Foxton 24 Hour Race 2016 finished earlier today at noon. Paul Coderoy won the 24 event with 181.621 km – a new course record, with Adrian MacDermott running a 24 hour pb with 161.468 km and third was Brian Cumpsty, covering 121.868 km.
First lady was Jane Lightfoot with 141.766 also a new course record, third place overall, second was Sarah Matthews with 117.164 on her debut at this distance and third was Jane Mowbray with 111.631 km.
The 12 hour was won by Christina Singleton with 115 km.
Race director Stan Jewel has been organising 24 hour events since 1981 when the original Chorley 24 hour took place. Its remarkable that Stan and his wife Barbara have been involved in these kind of events for 35 years. Stan hasn't made friends with the internet preferring the traditional strategies which focus on personal contact. However Chip-timing is the most convenient timing method which Stan has embraced and the facilities at the UCLAN sports arena can accomodate more runners than have taken part this year – this event has great potential providing another track 24/12 hour opportunity for the UK ultrarunning calendar.
| | | | | | |
| --- | --- | --- | --- | --- | --- |
| The Foxton 24 | | | | | |
| Place | Name | Bib No | Gender | Age | Km |
| 1 | Paul Corderoy | 4 | M | 49 | 181.621 |
| 2 | Adrian Mac Dermott | 31 | M | 42 | 161.468 |
| 3 | Jane Lightfoot | 5 | F | 28 | 141.766 |
| 4 | Brian Cumpsty | 3 | M | 50 | 121.868 |
| 5 | Sarah Matthews | 6 | F | 36 | 117.164 |
| 6 | Jane Mowbray | 8 | F | 45 | 111.631 |
| 7 | Gina Biggs | 15 | F | 26 | 104.03 |
| 8 | Brian Emmott | 14 | M | 66 | 100.4 |
| 9 | Craig Holgate | 2 | M | 39 | 96 |
| 10 | Gina Evans | 12 | F | 41 | 78.166 |
| | | | | | |
| The Foxton 12 | | | | | |
| Place | Name | Bib No | Gender | Age | Km |
| 1 | Christina Singleton | 32 | F | 36 | 115.758 |
| 2 | Chris Singleton | 30 | M | 37 | 102.06 |
| 3 | Lorraine Fraser | 33 | F | 61 | 80.495 |
Online results: whatsmytime.co.uk
Race website: www.thefoxton24.org