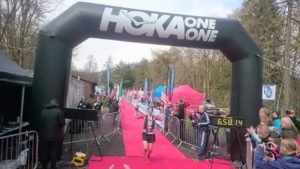 The Hoka Highland Fling is a 53 mile trail race which takes place every year, since 2006, in April. The route follows the West Highland Way, Scotland's oldest official long distance footpath, through the Loch Lomond and The Trossachs National Park from Milngavie to Tyndrum. Its a great way to get to know the first half of the West Highland Way.
Donald Campbell was first home in a time of 6:51:06 followed by Damien Hall in 6:58:16 and third was Kim Collison in 7:00:35. Robbie Britton finished 4th
In the ladies race Beth Pascall is leading Sophie Grant who is followed by Sally Fawcett and Lizzie Wraith.
Links

Live tracking
Website: Highlandflingrace.org
Facebook: Highland Fling Group