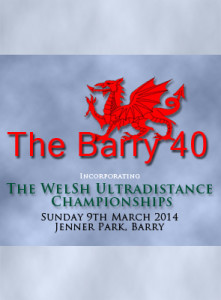 One of the longest running ultras on the ultrarunning calendar is the Barry 40which takes place every year at Jenner Park, the track that surrounds the Barry Town Football pitch.
The 28th Barry 40 also serves as the Welsh Ultrarunning Championships and the 6 hour time limit ensures a higher percentage of serious runners taking part.
Last years winner was Pieter Vermeesch from Garden City Runners in a time of 4:08:59 and Karen Rushton was the ladies winner in 5:04:59.
Natasha Doyle (Virgin Active Cardiff RC) was the ladies Champion and Jeremy Mower, third overall was the Welsh Ultra Champion and returns in 2014 along with Rasmivan Collinson fresh from his 72 hour in Arizona, Grant Jeans and Jen Salter. Rory Coleman is also signed up to run.
The 2014 event takes place Sunday 9th March.
Visit the Barry 40 website for more details.