27 year old Cumbrian, Catherine Higgins, will be running 10 marathons in 10 consecutive days, starting on the 14th May 2021. The Brathay 10in10 is considered to be one of the UKs toughest running events.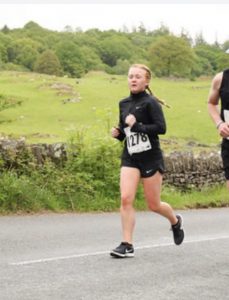 Catherine writes "The course is around lake Windermere. There are 13 other people (incredible ultra athletes) doing the run. I've been selected to do the run, which is super crazy because I've never been part of a running team, I've never really done any professional running before. I did my first marathon in 2019 and last May I ran 250 miles for Mind charity.
I'll be running the Brathay 10in10 for the Brathay trust charity. Brathays mission is to help improve the life chances of children, young people and families by inspiring them, helping them and showing them that they too can do extraordinary things.
Brathays work with over 7,000 young people every year, close to their homes or on residentials in the Lake District. By focusing on the skills, attitudes and behaviours that young people need to develop their potential, their employability and their resilience, they empower them to make active choices that will benefit them, and the people around them. It's truly incredible to be raising money for this charity.
This year I will be the youngest runner in the team.
I want to inspire young people, young females to realise that they can achieve anything they put their mind to".
This is the just giving page: