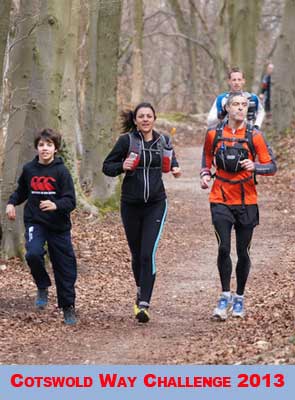 New Course Records for a Brand New Ultra
Runners in the first-ever Extreme Energy Cotswold Way Challenge last weekend took full advantage of the glorious spring weather and great course conditions to post some impressive finish times that will take some beating in future years.
86 runners and walkers gathered on the start line on Day 1 of the 2-day ultra, with three quarters of them going on to complete the 57-mile course.
First place in the men's race went to James Poole, who finished the first day in 4:12:27, a full 36 minutes ahead of his closest competitor before crossing the finish line on Day 2 side by side with Benjamin Winrow, who went on to take second place. James's time over the two days was 9:40:17; Benjamin remained 36 minutes behind him at 10:16:23. Third amongst the men was Dan De Belder, with a combined two-day time of 11.34.43
First lady, and in third place overall, was Emily Millington, a Shropshire runner, who also posted an extraordinary effort on Day 1 to finish in 4:55:30, 26 minutes ahead of the second lady on the course, and even made time to polish off an ice cream en route on Day 2, before finishing in 11:07:00! Second lady was Kerry Reed (12:20:11), with Kate Whitfield in third place (12:28:09).
Emily said, "I chose the Cotswold Way Challenge as my first target "A" race for 2013 and tailored my training towards it, quite a gamble when so many things can happen.However, it was the perfect weekend, the course really is a gem, very beautiful and perfect elevation for a hill lover like me!"
Read a full account of her race on her blog, Blueberry Trailz:
Beyond the leaderboard, it was a weekend of impressive performances from a wide field of runners and walkers. The oldest finisher was 65; the youngest 24, and with a mix of hardened ultra-runners; UTMB hopefuls; Marathon des Sables veterans and casual walkers and runners out on the course, the atmosphere was inspirational. Nine walkers spent more than 20 hours on their feet over the two days, with the last finisher making it past the line in a combined 2-day time of 21:44:05 in a feat of truly impressive stamina and endurance.
Next up in the Extreme Energy Ultra Challenge series is the Pony Express in the New Forest, 4/5 May, followed by the Fan Dance Challenge, 18 May.
Further information:
Cotswold Way Challenge 2013 Results
Extreme Energy forthcoming events http://www.xnrg.co.uk/events.htm
Extreme Energy blog: race report http://extremenrg.wordpress.com/2013/04/11/i-could-see-for-miles-and-miles/