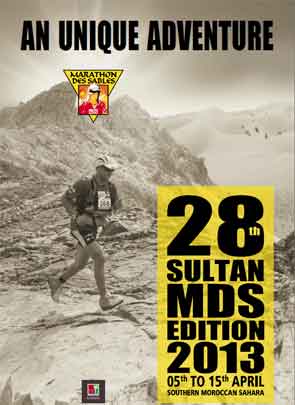 The 28th edition of the Marathon des Sables 2013, the most well known multiday stage started last Sunday, April 7th in Morocco's Sahara Desert. There were 284 British finishers alone – a massive turnout in a field of just over a 1000 runners.
At the front end,  Mohamad Ahansal won the race for the 5th time from Salameh Al Aqra of Jordan and Spain's Miguel Capo Soler. Danny Kendal and Andrew Fargus  were in 10th and 11th places respectively. Tobias Mews was 15th
In the womens race last years champion Lawrence Klein withdrew during the 4th stage and Meghan Hicks assumed first place ahead of Joanne Meek and Zoe Salt from the UK. Other British women putting in strong performances were Amelia Watts in fifth, Alison Young 13th, Esta Bovill 14th and Therese Marie Rodgers in 15th.
Pos
Name
Country
Time
Men
1
Mohamad Ahansal
MOR
18H59'35
2
Salameh Al Aqra
JOR
19H41'15
3
Miguel Capo Soler
ESP
20H19'31
Women
1
Meghan Hicks
USA
24H42'01
2
Joanna Meek
GBR
25H41'01
3
Zoe Salt
GBR
27H03'58
.
Full results are up on the race website: Marathon des Sables 2013 Results