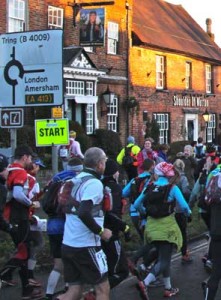 On a glorious January morning nearly 350 runners set off from the Shoulder of Mutton pub in Wendover – Destination, Little Venice Paddington in the Country to Capital 45.
It was difficult to believe for both the organisers and the competitors that the event would have a great day for Ultra running particularly as half of the country is underwater – and a record breaker on all fronts with both men and women setting best and a record entry.
Ed Catmur became the second person to go under 5 hours and in an incredible time of 4:48:10 setting a new course record followed in by Danny Kendall who became the 3rd person to break the 5 hour barrier in 4:59:39. Stephen Hodges completed the podium in 5:28:42.
Edwina Sutton also had a brilliant run finishing 4th and not only broke the women's record in a time of 5:42:30 but also recorded the highest ever overall finishing time by a woman. Bonnie Van Wilgenburg was second lady in 6:15:59 and Julia Donavan in 3rd in 6:32:36.
Over 300 runners completed the course in the 11 hour time limit underlying just how high the standard of Ultra Running has become. Competitors received the usual good cheer and sustenance at the check point, a good quality top and a specially cast Go Beyond Ultra medal.
Links
Checkout Go Beyond website for for full results.
Country to Capital – my best ultra yet Naomi Newton-Fisher
Race Report: Country to Capital ultra Catherine Simpson