Correspondent Adrian Stott writes: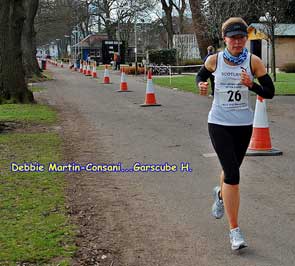 CONSANI BEATS ALL THE MEN IN 145 MILE ULTRA!
Scottish ultra distance international Debbie Martin-Consani confirmed her consistent progress of the last few years when winning outright the Grand Union Canal Race run from Birmingham to London. The Garscube Harrier, who holds the Scottish record for 200km, beat all the men when setting a new course record of 28 hours and 1 minute for the 145 mile course.
"I really enjoyed the run,  even though the night time  hours were quite challenging!" said Consani,  "It rained heavily  for several hours, and although  the course was fairly straight forward, in the dark , you were always having to check your map,"
As a bonus, she also broke the existing course record by almost ten minutes. "The course record really kept me focussed in the last few hours. I was by then comfortably in the lead but having the record as a focus really helped me to  stay strong "
Consani  hopes that this run, together with her performance at last autumns Commonwealth 24 hour championship in Llandudno, will push her case for inclusion in the Great Britain Team for the IAU 24 hour world championships in Katowice, Poland  in September.  The team is due to be announced later this month.
—
Second place and mens winner was Irelands Iveagh Jameson and Pete Summers was third.
2012 Provisional Results: Finishers
1st Debbie Martin-Consani 28:01
2nd Iveagh Jameson 28:53
3rd Pete Summers 30:03
4th Steve Charleston 30:38
5th Tom Chalk 30:43
6th Barrie Jones 31:23
7th Lee Brazel 32:30
8th Alan Myles 33:40
9th Rudi vanden Berghe 33:52
=10th James Dowdall 34:01
=10th Chris Maher 34:01
12th Gunter Marhold 34:13
13th David Richards 34:14
14th Mark O'Dell 34:33
15th Gunnlaugur Juliusson 34:35
16th Micky Sutton 34:36
17th Sarah Thorne 34:56
18th Ronny Jansen 35:47
19th Mark Holland 36:01
20th Kevin Mayo 36:24
21st Deti Gartner 36:51
22nd Ian Coldicott 36:56
23rd Stuart Shipley 37:20
24th Mike Blamires 38:01
=25th John Poole 38:03
=25th Philip A. Smith 38:03
27th Tom Boother 38:11
28th Andy Ives 38:28
29th Peter Johnson 38:29
30th Nigel Moysey 38:43
31st Bren Morgan 38:46
32nd Charles Brent 39:50
33rd Javed Bhatti 40:50
34th Keith Godden 41:13
35th Brian New 41:27
36th Christine Schroeder 42:33
=37th Stefan Olsson 42:52
=37th Dave Baker 42:52
=39th Jacqui Anderson 42:53
=39th Per Hjorth 42:53
41st Jim Rapley 42:56
42nd Symon Chester 42:58
=43rd Marino Fresch 43:03
=43rd Mark Fresch 43:03
45th Shane Benzie 43:17
46th Stuart Gray 43:32
47th Phil Dickins 43:47
48th Jim Brown 44:01
49th Rajeev Patel 44:10
50th Liz Tunna 44:24
=51st Marit Bjerknes 44:26
=51st Knut Kronstadd 44:26
=51st Duncan Cruttenden 44:26
Website: http://www.gucr.co.uk/template.asp?doc=277
Race report: Jerry Smallwood
Race Report: Debbie Martin-Consani