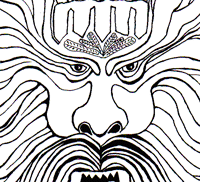 The Green Man Challenge is a 45 mile run around Bristol along a route first envisioned by Chris Bloor. The Challenge follows the course of the Community Forest Path around Bristol, with a few minor alteration. The full route is available as a pdf from Closer to The Countryside website.
Some navigation skills are required and the fastest time is under 71/2 hours.
Visit Closer to The Countryside for lots of info.
Also Checkout Luke Taylor's article about his experience running the Green Man Challenge in February 2011.
Recently Moti organised a run along the route and a video is below.