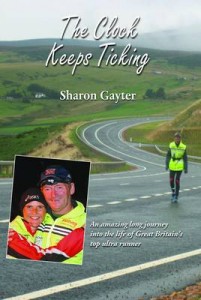 The book is replete with Sharons grappling with time constraints from her youth – the long wait until Sharon was able to leave her difficult family circumstances sensitized her to the significance of the passing moments – a theme that was to dominate the rest of her life through intense personal challenges in the ultrarunning world.
Running against the clock demands close attention to detail, a high level of organization and preparation and even when these are taken care of the race is still an encounter with the unknown.
After embarking on her running career at the age of 22 Sharon also discovered her love of long distance walking and covered some long distance routes such as Offa's Dyke 168 miles and tackling the 270 mile Penine Way solo.
Even at this early age its clear Sharon wasn't daunted by distance. Running her first marathon in 1986, Sharon gradually progressed to longer and longer distances completing her first 100 mile race in 1983, her first 100 km was the British Championships where she was first lady in 8:42 in London 1994.
That year she also won on her debut at the 24 hour distance at the Sri Chinmoy 24 hour at Tooting Bec in London running 127 miles.
Since that time Sharon has run in many races including the Flora 1000 mile Challenge, Badwater 135, The Libyan Challenge as well as the Marathon des Sables. Sharon has continued to set herself new challenges and remains a dominant figure in British ultrarunning.

In 2011 Sharon will take part in the Athens 7 day Ultrafestival in Greece, hopes to run in The High, in the Himalayas and run in the Commonwealth Games 24 Hour Championships in North Wales in September.
Sharon's book provides an insight into the life of a current champion ultrarunner that no doubt will inspire other ultrarunners to emulate her successful running career.

Visit Sharon's website at Sharon Gayter.com