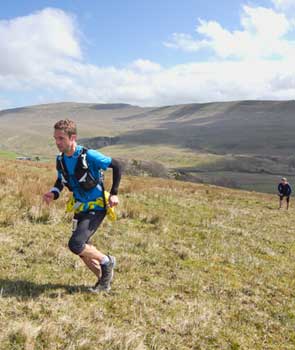 438 runners took part in the 50th anniversary of the Fellsman 62 mile ultramarthon in Yorkshire which experienced some of the worst conditions in its history and after the suspension of the event at 1 am, the decision was made to cancel the event in the interests of safety. Jez Bragg was first man and Nicky Spinks was first woman home. Official results have yet to be posted on the race website which can be reached via the link below.
The North Face®, the world's premier supplier of authentic, innovative and technically advanced outdoor apparel, equipment and footwear is pleased to announce that Jez Bragg successfully defended his Fellsman title on 28th/29th April 2012.
The Fellsman experienced the harshest weather conditions in it's history. A bitterly cold northerly head wind made the finishing times slower than last year.  Jez was pushed all the way but was victorious in a time of 11 hours and 2 minutes.
Jez commented 'I was delighted to secure my third win at the Fellsman in the 50th birthday year, particularly given the hugely challenging conditions of this year's event.  We did battle with a stiff northerly wind pretty much all day which meant a big effort was required to maintain even a modest pace, and that was the case most of the way round.  It was also a notably strong field with plenty of competition for the top ten places, and the gaps between runners much tighter than usual.  However as always, it was a great day out on the hills, pushing our hill skills to the limit, and requiring plenty of mental and physical fortitude to keep going. The result provides me with plenty of confidence for the busy racing season including TNF100 Australia, Western States 100 and The North Face® Ultra Trail du Mont-Blanc®.
The race was eventually stopped at 2am due to the adverse weather conditions and all the remaining runners were taken to the finish by bus.
Jez will be flying off to Australia in 3 weeks to take part in The North Face® 100 – 2012 and later in the year will return to The North Face® Ultra du Mont-Blanc®.
Links
Race website: www.fellsman.org.uk
Guy Mawson's race report: blogs.sandomenico.org.uk
Paul Brown's blog post: Road-to-50th-fellsman
Web http://eu.thenorthface.com
Facebook – http://www.facebook.com/thenorthface