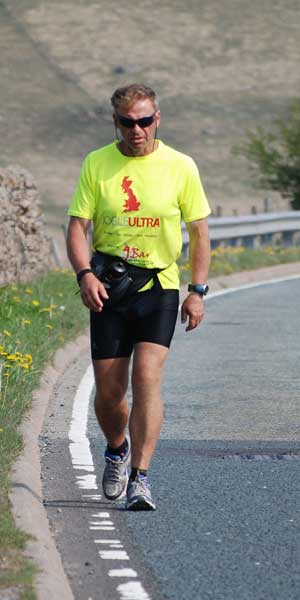 The 2011 John O'Groats to Lands End race, the JOGLE, a 860 mile 16 day stage race that covers the length of the UK has concluded with the retirement of the final runner Mike Brown.
Seven starters one by one gradually succumbed to the intensity of the daily schedule – an average of 54 miles a day and between 54 and 63 miles on roads.
This is the second running of the event hosted by Rory Coleman and ULTRArace who put on a series of ultramarathons throught the UK and Ireland.
Mike Brown
Steve Gordon
Micky Sutton
Torkel Skogman
Ed Callaghan
Graham Clifford
Ben De Jersey Moore
The following is from the final post on the race blog which can be found via the link below.
"With more than five miles left to cover at 11.51pm on the 9th day of 'The 9bar JOGLE Ultra', it was time to call it a day on the 61.1 mile stage from Garstang to Tarporley. From the last checkpoint, Mike had slowed to 25 minute miles and would have had a further 2 hours+ to finish.
We are all really gutted for him as he has put in a super-human effort these past few days on minimal sleep to keep to the daily schedule…
In total, he managed a whopping 520 miles in 9 days and is one of the toughest athletes we have ever seen in our events.
Congratulations to Mike for getting the furthest, this year."