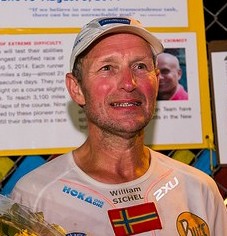 Life after 3100 Mile success
Orkney-based ultra marathon runner, William Sichel (61) continues to plan for the future following his extraordinary success in last summers 3100 mile race in New York – the World Longest Certified Footrace – which he completed in 50 days, 15 hours, 6 minutes and 4 seconds.
"I have been inundated with enquiries about my recovery, my future plans and questions such as 'where do I go from here'. Some have asked 'is it retirement and a book'? I can confirm it definitely isn't retirement just yet, if ever."
Williams recovery was 'unspectacular' with no real problems at all. Yes he was very tired when he returned in early August and quite understandably he didn't feel like running much, if at all. Surprisingly he hadn't lost weight but his body composition seemed to have changed with a loss of muscle, especially on the upper body.
"I didn't put any pressure on myself at all and only returned to exercise when I felt like it, which was after about 2½ weeks of relaxation. I did a lot of beach walking in Sanday and enjoyed the lovely, comfortable weather after the months of muggy heat in New York. Returning to normal life was quite amusing as I had experienced such an odd life for 2 months running laps around Queens in New York. I hadn't done anything except walk and run for so long that even making myself a cup of tea made me smile."
William admits that there was a bit of a feeling of "what next" after the race but he never contemplated retiring or stopping in any way.
"I spent some time reviewing my race experiences to see what I could learn from for the future and then did an extensive review of everything I had done over the past 10 years, my training, my racing, my preparations and my achievements. I also did an intensive period of training to build myself back up again physically, which has been successful"
Clearly William couldn't now focus on anything longer than the 3100 mile race, as that is the longest measured race there is, so he has made the decision to go back to shorter events – including very much shorter ones – as short as the marathon and a 40 mile event. His main focus will still be the 6 Day event but he wants to spice things up a bit by seeing what he can do over the shorter distances too.
"After completing 3100 miles/5000 kilometres using a walk and run strategy, I had completed the ultimate pure endurance challenge on the planet but realised I had lost a lot of my natural speed. I used to be pretty fast with a 2 hours 38 minute marathon and a 7 hours 7 minute 100 kilometre best. I always enjoyed the exhilaration of running fast and hard. I'm currently in the middle of a 6 month period of intensive training to recover my speed and plan for some shorter races including a 40 mile track race in Wales that I last ran 10 years ago." – The Barry 40.
William is also delighted that requests for talks have increased, both locally and from further afield including Edinburgh and London.
"I used to be paralysed with nerves when public speaking but now I really enjoy it – I feel as though I have got something to say and certainly from the feed back I get people seem to enjoy them."
William hopes to have high-lighted the benefits of exercise for the over 60s as well as raise money for the CLAN cancer support charity, with over £10,000 having been raised so far. William's dedicated web page can be found here: http://www.justgiving.com/William-Sichel
For more information about William Sichel visit his website at: http://www.williamsichel.co.uk/
William is working on Project165.com in which he is attempting to have set 165 ultra running records before his 65th birthday on October 1st 2018. His current total is 153 records. William is grateful to main sponsors the Orkney Islands Council.