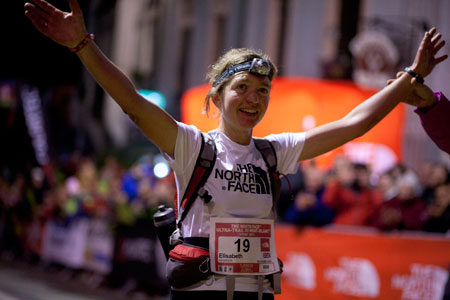 The world's running communities connected to witness drama unfold as Lizzy Hawker took 1st place and Kilian Jornet (ESP), Iker Karrera (ESP) and Sebastian Chaigneau (FRA) claimed podium at the 9th edition of The North Face® Ultra-Trail du Mont Blanc®, August 22-28th2011, in Chamonix, France.
Whilst storms delayed the start of The UTMB race by five hours, potential rock fall led to a diversion, increasing the course to 170km and creating the toughest race since the 1st edition in 2003. Despite the variable conditions including rain, snow, and extreme high and low temperatures, it was the fastest course to date.
From the starter field of 2,370 competitors, 1,700 runners shared their race in real time on personal Facebook and Twitter pages with family, friends and fans through the innovative LiveTrail APP. From start to finish line, live updates were posted from the course as checkpoints were passed enabling followers globally to track their runner.
From a field of 86 women, The North Face® runner Elizabeth 'Lizzy' Hawker (GBR) claimed first place to win The North Face® UTMB® in a time of 25h:02m:00s, finishing 13th overall. The second fastest women result on record, Hawker becomes the first athlete ever to win the coveted title for the fourth time – 2005, 2008, 2010 & 2011.
 "With a race like The North Face® Ultra-Trail du Mont-Blanc® you have to run with courage and humility – it was something very special to share the trail with so many people with passion for mountains and trails" explained a contented Hawker. Nere Martinez Urruzola (ESP) placed second, nearly three hours later with a time of 27h:55m:34s, with Darcy Piceu Africa (USA) placing third at 28h:30m:28s.
The men's race was intense from start to finish. It was double-podium for Spain as 24-year-old Catalan Kilian Jornet Burgada (ESP) took 1st place honours to win the title finishing fast in a time of 20h:36m:43s and followed closely by team mate, 37-year-old Iker Karrera Aranburu (ESP) who completed just nine minutes later with a time of 20h:45m:34s. Amongst the leading pack, Miguel Heras Hernadez (ESP) had to leave the race after 20.5 hours of running, due to a knee injury.
Thrilled at winning The North Face® UTMB® for the third time (2008, 2009, 2011), Jornet stated: "Because of the weather, my racing strategy changed; it became an adventure and a very intense emotional experience where I had to dig really deep in myself. It was an incredible day to share with my two team mates and Seb Chaigneau, running and pushing each other, sharing the run with friends."
Arriving ten minutes later than Karrera, having had a hard and challenging race, 39-year-old Sebastian Chaigneau (FRA) took 3rd spot in a time of 20h:55m:41s. "I am very happy for the 3rd place because it has been very hard and challenging. The weather conditions were really tough – from rain, to snow and ice, sunny and cool then really hot in Martigny – but thanks to the great support from people all night and day long, I felt really encouraged. It was tough thanks to Kilian and the three Spanish guys setting the pace, working as a team."
Jez Bragg (GBR), winner of The North Face® UTMB® 2010, had to pull out of the race due to health reasons after a recent infection combined with the inclement weather. "I am really disappointed. I was moving well and my legs felt really strong, but what I had to do in terms of breathing was unsustainable. Very soon after leaving Champex Lac it became so difficult to breathe, I made the decision to retire from the race."
The UTMB® takes place annually during late August in Chamonix, France. 5,500 competitors from 58 different nations take part in one of four races: headline course The North Face® UTMB® 166km max. 46 hrs; CCC® 98km max. 26 hrs; TDS 110km max. 31hrs; PTL 300km: non-stop. The North Face® UTMB®, of which 2,300 compete, crosses nine high elevation mountain passes, with a total positive height gain of 9,500 metres, circling the Mont Blanc massif through three countries: France, Italy and Switzerland.
For further information on The North Face® ultra-running team, race highlights, trail running products, upcoming ultra-running events and The North Face® Get Ready For Ultra-Trail online training series, click:
web: www.thenorthfacejournal.com
facebook – http://www.facebook.com/thenorthface
twitter – http://twitter.com/TheNorthFaceEU
LiveTrail APP – http://eu.thenorthface.com / www.ultratrail.com