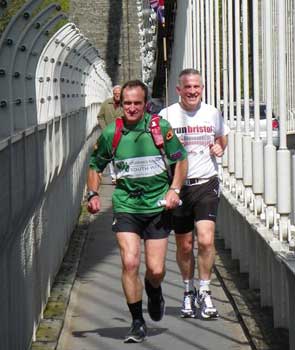 Radstock ultrarunner John Reynolds was unable to walk seven years ago after radiotherapy for a thyroid condition. This week he hopes to smash a (Guinness) world record for the most miles run in 7 days.
50-year-old John is five days into his attempt to complete 450 miles in under seven days to steal the record for most miles run in a week. The record currently stands at 408 miles.
John hopes to raise £50,000 for Children's Hospice South West (CHSW), the charity which runs a hospice at Wraxall providing care to life-limited children and support for their families.
John has created a 74 mile loop that passes Bristol Temple Meads and Bristol City Centre before heading up Park Street and Whiteladies road on his way to the Clifton Suspension Bridge before the route turns south and heads toward Bedminster. He then passes through the Chew Valley area, Wells, Shepton Mallet turning North again to Radstock and Bath, Keynsham and Bristol. There is a route map available on the website and an updated schedule of exactly where John will be at any given time.
The weather has been playing havoc with Johns feet and torrential downpours in the first few days gave him the chills. Yesterday and today the weather has improved though its getting colder today and tonight and although John has slowed his pace and his expected finish time has been delayed, he and his crew are confident that John will be able to complete the run.
The run will be passing through Bristol City Centre on Saturday evening so if you have the urge to take on a midnight run check the schedule for times.
There are phone numbers on the website to get live information as to where John is.
Links
Checkout the website at: www.championrun.org.uk/
Checkout the route on Google maps
Johns daily itinerary
To support John Reynolds, visit www.justgiving.com/championrun.
This is Bristol article:Inspirational John now sets sights on running world record