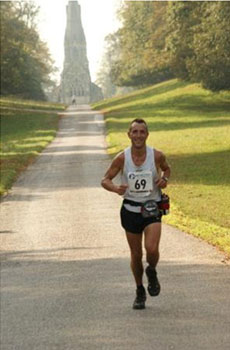 Round Ripon Ultra
6th October 2012
The mood was buoyant before the start of the Round Ripon ultra with a near doubling of the race field as news spreads of this cracking late season ultra. After flood conditions locally over the preceding weeks, clear skies and crisp winter sunshine rewarded the runners with breath-taking views across the moors and provided ideal conditions for a scenic race through some pretty Yorkshire countryside.
The conditions were not wasted by the leading runners as a select group of 8 headed out of Ripon and followed the river Ure north towards Masham in record time. The short climb from the river up to the moors at Ilton allowed Robin Carter from Rolls Royce Harriers and previous winner David Jelly to open a slender lead, arriving first at the  half way point. Leading defending champion Paul Peacock , Peter Woodburn and Crossley Eccles by 1 minute with William Foreman and Peter Chapman still in contention.
Over the closing miles Robin Carter pushed home his advantage finishing first in 4:46:04. Paul Peacock finished 2nd in 2012 despite improving on his winning time from 12 months earlier also picking up the M40 category win with Peter Woodburn in 3rd and David Jelley winning the M50 prize in 4th also inside the previous course record.
The ladies race proved to be an equally fast paced affair with Amanda Carter trailing Lindsey Clegg by just 3 mins. Despite improving her time on every section of the course to finish over 1 hour inside her previous best she was unable to overturn this deficit. Lindsey finished first in a new course record of 6:06:15 with Amanda Carter second and Sarah O'Neill and Ashleigh Thorpe sharing third place. Jacqueline Kearney finished strongly to pick up the ladies vet prize.
Behind the leading runners over 100 runners competed, many for the first time, making this the fourth consecutive Go Beyond race to achieve this feat in 2012 and with both Country to Capital and Thames Trot 2013 set to sell out in the next few weeks this has been a record breaking year for participation in Go Beyond Ultras. The mix of stunning courses, enthusiastic support, and resounding camaraderie catching the imagination of runners looking for a more interesting challenge.
The team trophy was retained by local club Ripon Runners whose combined team placing of 97 narrowly beat Horsforth Harriers and Swaledale Road Runners into 2nd & 3rd. Team scorers on the day were David Jelley, William Foreman, Peter Chapman, Alex Fawcett & Helena Conlin.
Race results are available on Gobeyondultra.co.uk/ and with nothing but praise for the course and race organisation, 2013 is set to be another great year.