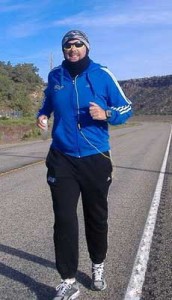 In the Summer of 2007, Mark Allison ran 874 miles from John O'Groats to Lands End in 37 days raising £34,108 for St Benedict's Hospice which cared for his Mother during her final days battling lung cancer.
May 1st 2011 Mark began a 3100 mile run across the United States, from Huntington Beach in California to New York on the East coast – in 100 days. An average daily mileage of 31 miles.
Making this project manageable has been facilitated by a support vehicle and, currently, a crew of three including a sports therapist and two drivers.
The funds raised will be split between St Benedict's Hospice and The Children's Foundation. All overheads associated with the run are funded by Mark.
Mark has left his family at home in County Durham and his 8 year old son sends his Dad messages via a blog Run Geordie Run Junior
Mark is keeping a blog, Run Geordie Run which he usually updates several times a day and is also on Facebook
So far Mark has raised over £33,000. If you would like to sponsor or support Mark or would like to know the reasons why he chose those two charities, please visit his website.