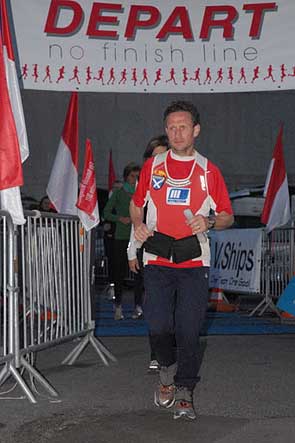 NEWS from Orkney's William Sichel
Sichel runs in World Challenge 48 hour Treadmill race in France
Orkney-based ultra marathon runner, William Sichel (58) kicks off his 2012 season by travelling to Evreux, in northern France, as an invited participant in the first 48 hour treadmill race to be held in the EuroFitness Centre from Wednesday February 22nd to Friday 24th.
Six established ultra distance athletes have been invited to this event, called the "World Challenge 48 Hour Treadmill" the first of its kind.  William will join three Frenchmen, a Swiss and a Spanish lady.
The brain child of local organiser Gerard Cain, this unique event will start at 4pm UK time and herald a new type of competition which the organiser thinks will become a popular event for athletes and spectators. The main focus of the athletes will be on the existing world 48 hour treadmill record, set by Ireland's Tony Mangan, of 251.80 miles/405.22kms.
Ten years ago, William set a Guinness World Record for the greatest distance run on a treadmill in 24 hours, at the Pickaquoy Centre in Kirkwall.  William covered 112.46 miles on that occasion.
"I have to admit I have done nothing like that since and I'm not sure how I will respond to 48 hours on a treadmill. I use a treadmill regularly in my training but never for longer than a few hours.  I'm fully fit and willing to have a good shot at it and see how I get on."
In William's last event in November, he won the Monaco 8 Day road race becoming the first person in the event's history to surpass 1000kms or 621.37 miles in the 8 days.
William plans to provide full coverage of the treadmill event on his blog www.williamsichel.co.uk/blog thanks to Shaun Brassfield-Thorpe of UltraFitnessTraining.com
William is a member of the Orkney Athletic Club and is currently engaged in Project 60@60 in which he is attempting to have set 60 ultra distance records, at World, British and Scottish level, including age-groups, before his 60th birthday on October 1st 2013.  Currently William has set 58 records, including 6 World Age-Group records. The records must be set on road, track or indoor surfaces.
William is grateful to sponsors Loganair and Myprotein.
February 17th 2012
Photos: William Sichel