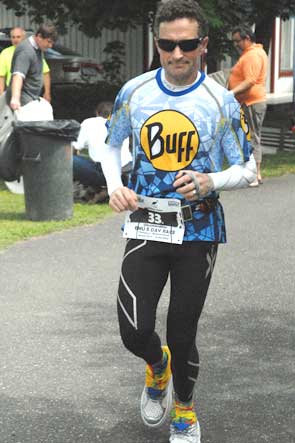 NEWS from Orkney's
William Sichel
Fighting back from the effects of heat William Sichel takes 5th place in Hungary
Orkney-based ultra marathon runner, William Sichel (59) overcame the effects of serious heat, during the 2013 Hungarian 6 Day road race in Balaton, Western Hungary to achieve 5th place overall with a final distance of 469.22 miles.
Temperatures rose to the high 20's centigrade during the first part of the race stressing runners excessively in this incredibly grueling ultramarathon.
"I was satisfied with my heat training in preparation for this event and I was pleased with how I responded in the heat.  There is however, a limit and late on Friday, after the sun set, a sheet of cloud came over and the area became like an oven with very high humidity too.  I sensed a strange feeling of the whole body 'heating up' especially around the neck and head – not a pleasant sensation."
William responded by wrapping himself in wet towels and by resting more to allow for sufficient cooling.  Time and distance was obviously lost but the condition had to be treated properly before he could continue.
William came back strongly and for many hours see-sawed between 3rd and 4th place.  A final surge from the Hungarian ultrarunner Pula Tamas saw William drop to 5th place which he held onto until the finish.
The Balaton event is the strongest in-depth multiday race held so far this year and William's performance puts him in 7th place on the overall World Rankings for this year.
William also enjoyed a near perfect nutritional strategy using almost 12 litres of ice cream during the race along with some bacon and eggs.
"It was great to be so well fueled and have no stomach issues at all.  It makes a big difference if this can be achieved in these long events.
William doesn't have much of a break before he tackles the first 6 Day race to take place in Britain for 23 years – The British UltraFest 6 Day track race to be held from August 11th – 17th at the Radley College, Abingdon near Oxford.
For some years William has been engaged in Project 60@60 in which he was attempting to have set 60 ultra distance records, at World, British and Scottish level, including age-groups, before his 60th birthday on October 1st 2013. The two 1000km records, achieved in Monaco in November 2012, marked his 59th and 60th records thus achieving  his target 10 months ahead of schedule.
William will announce a new ambitious project at some point in the future.
William is grateful to main sponsors Orkney Micro Renewables, Loganair and the Orkney Islands Council.