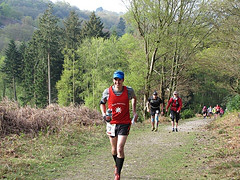 The Pony Express 2013: A Bank Holiday Belter
The Extreme Energy Pony Express is more than just an ultra-marathon: it's two 30-mile ultras, run back-to-back over the two days on the May bank holiday weekend. Completing even one day of the multi-terrain course is an achievement; completing both days is enough to earn you two qualifying points for the mighty UTMB.
Over 70 runners joined the Extreme Energy crew in the New Forest this year for the third annual Pony Express, with the men's race won by Justin Montague with an impressive combined 2-day time of 8:07:01, just three minutes behind Mark Ford's 2012 course record, and the women's title taken by Jennifer Bradley in 9:03:35, putting her in third place overall behind Austin Jarrett.
Beyond the podium, the challenge once again brought some impressive achievements from runners and walkers throughout the field, with nearly nine hours separating the first and last finishers, and more than 40 years of age between the youngest and oldest. One first-time ultra runner, Rochelle Williams, clocked up the first- and second-ever ultras of her running career on days one and two of the race to finish in 11h 29; Kenwynne Barber, an Extreme Energy veteran and the oldest finisher at 72 years old, described the race as 'another "F" week-end, as in Fabulous!!!', showing incredible stamina to finish the course in 18h 46.
Evening entertainment came from Jennifer Bradley, a Pony Express veteran of 2011 and 2012 (placed second lady both times) who ran 3300 miles coast-to-coast in the USA last year and returned to tell the tale. Jennifer shared the story of her inspirational running experience in an after-dinner presentation at the overnight stop between days one and two, before going on to demonstrate her ultra tips in action, by winning the ladies' title! Course conditions in the New Forest were perfect, with clear skies and sunshine throughout the weekend.
Next up in the Extreme Energy event calendar is the Fan Dance Challenge, 18 May, followed by the Round the Island Ultra Challenge on 1/2 June.

Further information:
Pony Express 2013 competitor information http://www.xnrg.co.uk/ponyexpress2013.htm
Get an overview of the course from the Extreme Energy blog: extremenrg.wordpress.com
Jennifer Bradley's race report http://runningandbaking.com/2013/05/06/pony-express-2013/