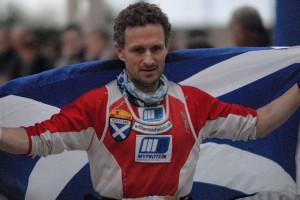 Sichel to tackle 129 year old record Orkney-based ultra marathon runner, William Sichel (57), has announced his racing plans for 2011. The highlight will be another attempt to break Scotland's oldest athletic record – 567 miles in 6 days (equivalent to nearly 22 marathons) – set in October 1882 in New York, by exiled Edinburgh man George D. Noremac. In Victorian days, the indoor 6 day races were a huge draw and made fortunes for the successful athletes, known as "pedestrians" or "peds" in their day.
William will open his competitive season with a 12 hour track race in Crawley, Sussex on April 2nd. This will be William's shortest race for 7 years and will be used as a build-up race to his first major challenge of 2011, the UNIX 6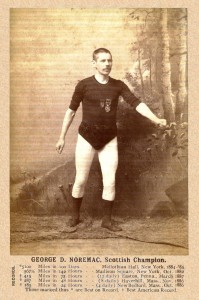 Day road race in Balatonfured in Hungary, from May 4th-10th. Here, William will make another attempt on George Noremac's Victorian 6 day record. "I feel as though I've been creeping up on this historic record for the past few years. My last proper 6 day race was in 2008 when I did 532 miles. I need to average almost 95 miles a day for the six days. When I did my personal best, I averaged almost 89 miles, so I just need that bit more to get the record."
July will see William travel to Cologne for a 48 hour track race and a crack at the Scottish record. In September, the 2nd Commonwealth 24 Hour Championships will be held in Llandudno, north Wales. William will compete if selected. November will see William return to Monaco, the scene of his first two victories in 6 day races, but this time the 8 day will be tackled. This will be the first time that William has taken on two multiday events in one year. "My support team agree that I'm now strong enough and experienced enough to tackle two multiday events in one season, so I'm looking forward to trying it. I only started to compete in multiday races in 2006 and it takes time for the mind and body to get used to them, especially when performing at a high level." As part of William's preparations for this gruelling year he will take part in his own "Training Camp", in the Kirkwall area, from Friday February 25th – 27th. He will run a whole series of 4 hour blocks, with short breaks, replicating his tactics in multiday races. "Every now and then I like to get away and focus totally on my running for a few days. I get the chance to rehearse my race nutrition, race tactics and get out of my comfort zone for a while."
William is currently engaged in Project 60@60 in which he is attempting to have set 60 ultra distance records, at World, British and Scottish level, including age-groups, before his 60th birthday on October 1st 2013. Currently William has set 45 records, including 5 World Age-Group records.
More details here: www.williamsichel.co.uk/blog William is grateful to current sponsors Loganair and Myprotein February 20th 2011 Photos: 1. William Sichel (Courtesy Alan Young) 2. George Noremac 1882