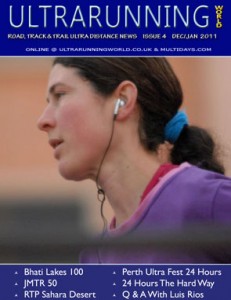 The December/January 2011 edition of Ultrarunning World is now available for free download from the Downloads page or purchaseable from Magcloud as a hardcopy.
This issue features news from India's first 100 mile race via Globeracers RD, Kavitha Kanaparthi. Blake Wood wrote an interesting piece about running the John Muir Trail 50 with a younger man. Alan 'Jonno' Johnson wrote about running across the Sahara Desert as part of the RacingThePlanet series of events and Chris Carver fills us in on the details of his trip to the 2010 Perth 24 hour race. Shishaldin Hanlen met up with Luis Rios to ask a few questions about ultrarunning life and Don Winkley keeps cruising at 72 with marathon to Marathon and then 24 Hours the Hard Way. Don loves to run and will be taking part in this years 9th Transe Gaule as the only ever present. Plus we have a calendar of some of the more popular ultras and multidays taking place in a world near you.
Many thanks to all the contributors!!!
If you have stories to share, dreams to dare, a fate to make then send me an article and some photos and we'll make it real. Send feedback or material to mail@ultrarunningworld.co.uk