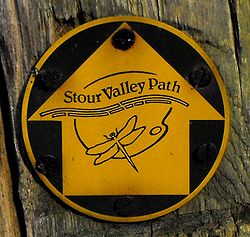 The Stour Valley Path is a 100km trail that starts in Newmarket town centre and stretches out to Cattawade which is on the Suffolk Coast. On the 22nd July 2012 a group of intrepid runners will set out at 4am with the goal of running the entire route in one day.
Along the way they will pass through historic villages, picture postcard scenery and enjoy one of the finest long distance routes in East Anglia.
As with all Fat Ass events, entry is free but given the distance of this event you're going to need a friend to crew for you with a vehicle of some kind. Several runners can share crew as long as they all stay together during the run and that they can all fit in the vehicle.
Don't under-estimate the challenge, this is a long day on your feet. I myself ran this route in 2010 and it took 13 hours. It was a genuinely amazing experience though and probably my biggest running achievement so far. I'd like to give others the opportunity to experience what I think is a wonderful running route.
Are you up for the challenge? Do you want to run a distance that will make your friends doubt your sanity? Come on then! Send me an email and get yourself entered in the Stour Valley Fat Ass 100km.