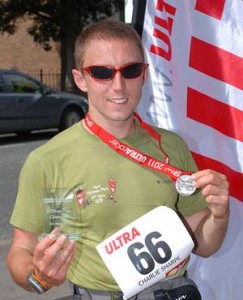 The first running of the ULTRArace Peaks 40 miler, the penultimate round of the 9bar UK ULTRArace Championship took place 21st August 2011. The course is  multi-terrain with steep hills, trail and urban footpaths.
Stephen Johnson built up an impressive lead which he held all the way to the 35 mile-point until he succumbed to the pace and was passed by 22 year old Charlie Sharpe. Charlie's time of 5 hours, 47 minutes was impressive given the conditions.
Helen Skelton was the first lady and led the ladies race from start to finish. Her time of 6 hours, 22 minutes was good for 7th overall. Welsh athlete, Natasha Doyle, also ran an excellent race finishing 6 minutes after Helen in 6 hours, 28 minutes. Jenni Muston was the third lady.
Round 9, the final round of the Championship, visits Nottingham on Sunday 9th October and there are still places available. Otherwise, be sure to enter next year's ULTRArace Peaks which will go online shortly…
Top 3 Men
 1.  Charlie Sharpe    – 5:47:19
2.  Stephen Johnson – 5:56:04
3.  Adrian Kamis      – 6:14:25
Top 3 Ladies
1.  Helen Skelton     – 6:22:11
2.  Natasha Doyle     – 6:28:32
3.  Jenni Muston      – 6:38:29
Links
Ultrarace Peaks Full – race results