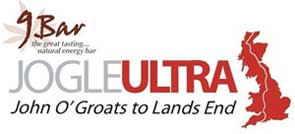 Ultrarace.com, the new ultrarunning organisers in the UK masterminded by Rory Coleman, are lining up a UK Ultra Championships for 2011 sponsored by 9bar. The Championship comprises the following ultramarathon events:
ULTRArace 45 [Day 1]
ULTRArace 45 [Day 2]
The London Ultra
ULTRArace Grantham [Day 1]
ULTRArace Grantham [Day 2]
The Cardiff Ultra
ULTRArace 100
The Birmingham Ultra
The Nottingham Ultra
Ultrarace are also holding other interesting events including the JOGLE multiday a 860 mile stage race which was held for the first time in 2010. In October a 2 day stage event will take place over 2 of the race stages as acclimatisation experiences.
Visit the ULTRArace website for the details of each event.