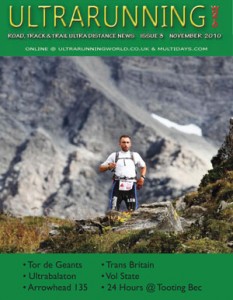 The November edition of Ultrarunning World is now available for download from the Downloads page or purchaseable from Magcloud as a hardcopy.
This months issue is a little smaller than previous issues at 24 pages and a little later than planned, however it includes runners accounts of classic races like Bill Bradley's epic Arrowhead 135 adventure, Don Winkley was at Laz's other ultra – The Vol State, Julia Buckley, editor of The Running Bug went to see how the Tor de Geants was done, Lee Chamberlain wrote at length about his Trans Britain race and Sri Chinmoy Marathon Team members Chanakhya and Rasmivan wrote about Ultrabalaton and the Self-Transcendence 24 hour race at Tooting Bec respectively.
Next issue will include the start of a calendar with all the major races over 80 miles that I am aware of, so if you would like to see your event listed, for free, then send details to the email address below.
If you have an ultra event coming up or some solo ultra project or product or service relevant to ultrarunning let me know. If you would like to submit an article send to: mail@ultrarunningworld.co.uk