Challenge66 – 66 ultramarathons in 66 day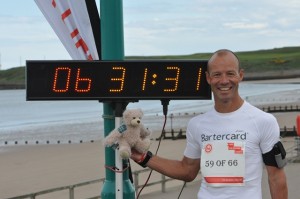 Ultrarunner Andy McMenemy is almost there in his attempt to establish a new Guinness World Record for consecutive ultra marathons (50km) with no rest days. The previous record was 52.
Starting March 16th in Leeds Andy began a quest to complete 66 ultras and raise money for The Soldiers Charity. Each ultra will be run in each of the 66 official Cities in the United Kingdom.
Today he runs in Sunderland and then theres only three more to go – Durham, Ripon and finishing number 66 at the York Racecourse.