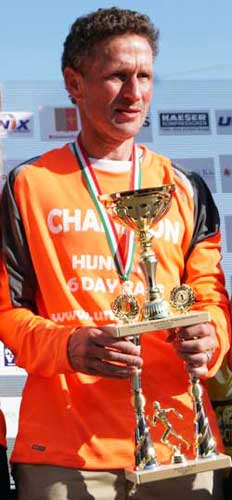 NEWS from Orkney's William Sichel
Sichel wins 2011 Hungarian 6 Day race with outright British record
Orkney-based ultra marathon runner, William Sichel (57), won the Hungarian 6 Day road race finishing last Tuesday May 10th in Balatonfured in western Hungary.
Recording a personal best, road distance of 518.31miles/834.134kms William set a total of seven records including the outright British record, set by Richard Brown in 1988 and the overall Scottish record set by Al Howie in 1991. However, the Victorian record, set in 1882, was beyond his reach on this occasion.
Running strongly from the start, William broke age-group British and Scottish records at the 48 hour mark and then pressed on to maintain his 5 year unbeaten streak in 6 Day races, dating back to his debut in 2006. His winning distance is also the World's best distance, recorded so far this year, in all multi-day races of this duration.
Germany's Hans-Jurgen Schlotter provided initial resistance but in the end William's margin of victory was an impressive 56 miles.
Temperature extremes challenged the 27 starters with bitterly cold night time temperatures contrasting with day time heat in the high 20'sC.
"I'm delighted to have run so well once again in a 6 Day event. I was on target for the Victorian record for almost 4 days when a short period of heavy rain meant I lost distance which I couldn't make up again. I knew I was in good shape going into the race but in races of this length you can never be sure how they will turn out."
William is hugely grateful to his support team of Brechin's Alan Young and Manchester's Tim Rainey who supported him throughout.
William is grateful to current sponsors Loganair.
http://williamsichel.co.uk
hour by hour race results