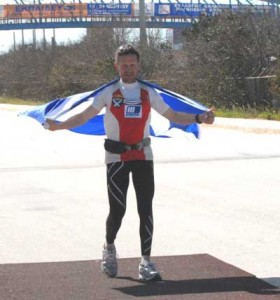 William Sichel is currently Britains best multiday runner as shown by his recent performance at the 1000 mile race in the recent Athens Ultra Festival in Greece. 56-year-old William set World Age Group Records for 6 Days, 1000Kms and the 1000 miles.
6 Day Road – 800km / 497.09 miles
M55 1000 km World Record – 7 days: 23 hours: 45 mins: 43 secs,
M55 1000 mile World Record – 13 days: 20 hours: 08 mins: 1 sec
Starting at a steady pace, William gradually rose to second place as the early leaders dropped or tired and successfully held off a tremendous challenge by the legendary Italian runner Lucio Bazzana to finish in second place behind one of the greatest multiday runners in the world today, Wolfgang Schwerk, who also set new records in the Greek heat at the 6 day,1000km and 1000 mile distances.
William Sichel interviewed on Scottish TV's The Hour
Read William Sichels blog for more details and photos by Alan Young from Dion_Networks, Williams dedicated crew.
Other runners at the Ultramarathon Festival included Welshman Abichal Sherrington in the 1000 mile race who completed 1000 kms. Richard Brown set a new World Age group record in the six day race – M 60, 6 Days Road: 705,000 Km.
In only her second 24 hour race, Heather Foundling-Hawker set a new pb whilst winning the Womens 24 hour division with 178 km (110.6 miles). Visit Heather's website, Hands-on
Full results are available from Athens International Ultramarathon Festival 2010