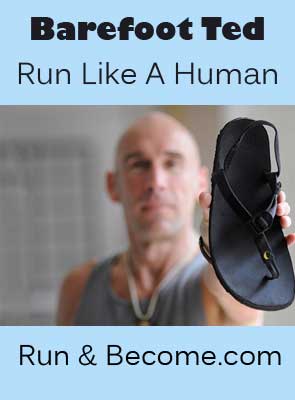 Barefoot Ted – Run Like A Human,  A Talk on June 18th 2013
6:30pm – 8:30pm
Run and Become London, 42 Palmer Street, SW1H 0PH
Barefoot Ted is back!
The hallmark of Ted's barefoot running philosophy is regaining connectedness, mindfulness, and presence in your running and in your body.
"Barefoot running is not about blocking or pushing through pain, or at least it shouldn't be. Rather it is about tuning-in to your own body's highly sophisticated set of integrated awareness systems, systems that communicate through feelings and senses that are being collected in real-time as you move. From my perspective, learning how to run well means learning how to tap into the feeling of running well, which more often than not requires baring the foot to get the full feel of what happens when you move."
Ted will be appearing at Run and Become, both to tell you more about how Luna Sandals, the book, and his running philosophies co-evolved, and to take you out for a run around the urban jungle of London!
The event is free but sign up to book a place as there is limited space