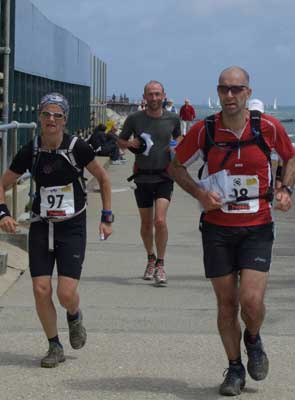 Round the Island in just two days: challenge yourself!
The fourth annual Round the Island Ultra Challenge is scheduled for 1/2 June, and it's one of our firm favourites. Taking place on the same weekend as the legendary Round the Island Yacht Race, this race gives Extreme Energy Director Neil the perfect opportunity to indulge his twin passions for running and sailing – and with up to 2,000 yachts and their crews descending on the island for the race weekend, the atmosphere at the start and finish line is always electric.
This year's yacht race is set to be particularly special, with triple Olympic Gold medallist Ben Ainslie CBE is competing on board the Big Class yacht Eleonora. Runners will enjoy a unique perspective on the offshore action as they follow the coastal path in a clockwise direction, guaranteeing fabulous head-on views of the yacht race from start to finish.
The ultra, meanwhile, is tough as ever: the full distance is 70 miles, starting and finishing in Cowes (join us on Friday night to soak up that race-weekend vibe!), and each day is a respectable ultra-distance in its own right: 37 miles from Cowes to the mid-way campsite at Brighstone, and another 31 back to Cowes on Day 2. (Yes, we're camping: bring your tent! Chalets are available at a small supplement, for the faint-hearted …) Single day options are also available.
Runners regularly travel from Europe for the Round the Island Ultra Challenge, and this year our most distant competitor (so far!) is joining us from Antwerp. The Round the Island Challenge is a UTMB qualifying race (2 points awarded), but whether it's your first ultra or your fiftieth, it's guaranteed to be a good one. In the words of one of last year's finishers,
"I have to admit Saturday was the toughest day of running for me yet, but the scenery was amazing and it just added to the sense of achievement at the end! Another fantastically organised, fun, friendly event – great route and I loved the camping – so I definitely hope to be back at this event again next year…"
If you want more of a flavour of what to expect, this fantastic 2012 race report http://www.runmoor.co.uk/past/round-the-island-ultra-marathon/ from Helen on her running blog, Runmoor is a great place to start, as is our 2012 Flickr gallery http://www.flickr.com/photos/xnrg/sets/72157630404996952/ of sun, sea views and (tired) smiles.
The Round the Island Challenge takes place on 1/2June 2013. Over 70 are signed up already, but there's still time to join them: registrations for the one- and two-day races are still open.
Visit the Round the Island  website for all the details.