Barry 40 Mile Track Race Report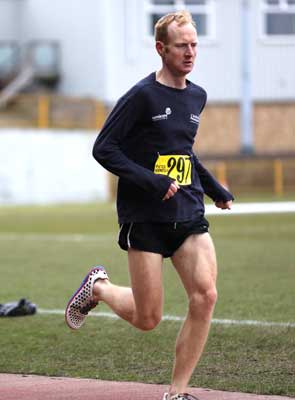 The stagnant high pressure area which had centred over the UK all week meant one thing – it was going to be another very cold day for the 27th edition of the Barry 40 mile track race. In addition, recent days had seen moderate easterly winds indicating significant wind chill. Fortunately, these significantly abated for the big day, which suggested good running weather but a long tough day for the officials and supporters.
18 of the 21 entrants showed up and toed the line, and on paper the quality looked very high. The unfortunate cancellation of the Gloucester marathon/50 km meant that the Barry race assumed added importance, as it had become the only trial race for aspirants for international ultra selection for 2013.
Last year's runaway winner, Grant Jeans from Glasgow, had returned to defend his title, but the likely race favourite was Belgian Pieter Vermeesch, whose 2:19:45 marathon clocking from London 2011 meant he was significantly faster than anyone else. The fact that he had also been four times the Belgian 100 km champion meant that in theory he had both the speed and endurance to win the race comfortably. Both Jeans and Vermeesch had experienced lengthy lay off through injury during 2012, meaning that should either falter, twice Barry 40 runner-up Paul Fernandez could go one better and win. In the ladies race, the late decision of last year's winner Heather Foundling-Hawker not to race meant that Karen Rushton, runner-up in 2011, was a strong favourite to win.
The first lap was sensational, as Grant Jeans, as per last year, flew round the track in just 81 seconds, tracked by Pieter Vermeesch. If this was a sign of things to come, then fireworks were expected! The initial burst subsided, however, and the leaders settled into a steady rhythm of just outside six minute miling. Early strategies were quickly established, some runners choosing their own pace, others preferring a few words and some convivial company.
The white attire of Jeans and black of Vermeesch made for an interesting visual contrast, but there was nothing to choose between them at 5 miles, clocked in 30:31, with Jeans always a stride ahead. Fernandez was also looking good as he passed in 31:13, just 42 seconds adrift. Jeremy Mower lay fourth in 34:43, thereby leading the Welsh Championship, and Karen Rushton, running virtually identical pace to her performance in 2011, lay seventh in 36:22.
Jeans and Vermeesch circled the track for 40 laps, almost as Siamese twins, before Grant stopped for a drink. With the link broken, Pieter accepted the challenge to take the initiative, and began to move away. The respective 10 mile times were 62:09 for Vermeesch and 62:15 for Jeans. Paul Fernandez was now exactly one lap behind in 63:41, with Jeremy Mower still 4th in 70:06. Barrie Jones, a newcomer to the Barry 40, was certainly making an impressive debut as he came through next in 71:34, followed by Karen Rushton and Rasmivan Collinson, both moving easily and keeping each other company in 73:24. Of the other ladies, Maria Zubizarreta, champion in 2009, came next in 80:33, followed by Natasha Doyle 85:28, Jeni Richards 88:29 and Molly Melhuish 1:54:20. All 18 runners were still moving well.
The pace at the sharp end seemed effortless and was remorseless. It was well known that Vermeesch was the class act on paper, and he was proving it. His second 10 miles was a virtual carbon copy of the first, and he passed halfway in 2:04:36. Grant Jeans was slowing a little but still looking good as he passed in 2:07:10, and Paul Fernandez was now starting to get a little closer, though still third, in 2:09:08. It was common knowledge that these three were likely to be the main protagonists, and so it was proving. Jeremy Mower was still 4th in 2:23:25, but was slowly being reeled in by Barrie Jones (2:23:50), and this mini-battle for a time became a focus for attention. At just 29, Jones was by 18 years the younger, and youth versus experience battles are always fascinating when played out over an extended period. Karen Rushton was now clearly established in 6th place on 2:27:34, with the rest of the ladies' timings Zubizarreta 2:34:31, Doyle 2:56:11 and Richards 2:58:36.
The leaden skies had cleared somewhat, and the temperature had crawled up to 4 degrees. Unfortunately, the north-easterly wind had freshened a little, though never got above 12 MPH. Reasonable for running, perishing for watching. The Barry 40 is well-known as being an endurance test for everyone, and it was certainly living up to its reputation.
Not that the weather was bothering Pieter Vermeesch, far from it. By lap 90 he had caught and passed Grant Jeans for the second time, and by now also led Paul Fernandez by 3 laps. For a few hundred metres the three leaders were together, and one was able to get a visual impression of their relative strength. Whilst Vermeesch was still looking absolutely imperious, Fernandez was moving almost equally well, and it appeared that Jeans has slipping back. Each subsequent lap seemed to confirm this position.
Such was the standard of the race that all 18 runners were still moving well with three hours approaching. Sadly, that all changed. Grant Jeans had experienced back problems since his win last year, and increasingly his discomfort was becoming apparent. His pace was beginning to slow accordingly. It was a brave defence of his title, but with almost 14 miles still to run, there was only one sensible option. Around this time Maria Zubizarreta also withdrew, having declared her intentions before the start to only run 23 miles.
Meanwhile, the pace up front was unrelenting. Pieter Vermeesch's third 10 mile split was his fastest of the race so far, 61:41, and he was looking supremely comfortable and confident. His 30 mile time of 3:06:17 meant that he now had a lead of 6:43 over Paul Fernandez, who was still moving very smoothly and surviving significantly better than on either of his two previous visits.
The battle between between Jeremy Mower and Barrie Jones, which was now for third place, had also taken an interesting turn during the third ten miles. Jones had caught his man on Lap 85, and by 30 miles held a precarious lead of 20 seconds, 3:38:00 to 3:38:20.
In the ladies race, Karen Rushton had consolidated on her 5th position, and was now unstoppable as she clocked 3:44:17. The battle for the ladies minor places, which was now also for the Welsh title, was intriguingly poised between Natasha Doyle, on 4:28:40, with Jeni Richards now just 55 seconds behind on 4:29:35.
Beyond 30 miles Pieter Vermeesch continued to show his class. For a time his lap times indicated that he was operating inside 6 minute miling, and his advantage opened up to 7 laps. But Paul Fernandez was fighting hard too, and in the closing miles was actually the fastest runner on the track. The pace judgment of both athletes was quite remarkable in that both ran "negative splits" i.e. second half faster than the first – particularly impressive over so arduous a distance. It was Pieter Vermeesch's first ultra track race, although he has extensive experience on the road. His winning time of 4:08:59 was enough to rank him 29th fastest in the world all-time, and it was the fastest Barry 40 since 2004. And yet, given that it was his first ultra for 18 months after an extended lay-off, there is clearly the potential for much more. Paul Fernandez also showed enormous improvement over his previous attempts at this race, and his time of 4:19:13 was a 12 minute personal best.
Jeremy Mower's third place in 4:56;02 was also a 7 minute personal record, and beating the significant landmark of 5 hours for the first time. He also regained the Welsh title that he last won in 2009. Barrie Jones gave a great account of himself on his debut in 4th, and his time of 5:00:50 will surely only serve as a spur to beat the 5 hour mark next year.
Karen Rushton had another magnificent run to claim the ladies title. She was five minutes down on her 2011 run here, but it was still a wonderful effort. Behind her, Natasha Doyle just managed to hold off Jeni Richards for second (and the destiny of the Welsh title), 6:04:51 to 6:08:09.
At the race presentation, there was a nostalgic moment. In 1995, the then Chairman of the Leisure Services Committee, Neil Brown, presented the prizes, and two of the individual prize winners that day, Robin Gardner (the race winner, who won the over 50 title this time) and James Zarei, were in action again.
The penultimate runner to finish was Alan Mann, who has run every Barry 40 since 2003, and has only failed to finish once. But the biggest cheer was reserved for the final runner. Two decades ago, James Zarei was amongst the finest exponents in the world of 6 day races, and twice won the 250km Spartathlon in Greece. He hadn't raced in Barry since 2000, and hadn't raced at all for nearly as long. Aged 69, he turned back the years to finish really strong in 6:30:13 and immediately  pledged to return next year. It was a truly emotional moment.
18 starters, 14 finishers – a huge credit to all concerned. A fantastic team effort, not only by the runners, but also by all the officials, to Gary and Pip Hyatt yet again for the refreshments, and to the groundstaff Mike Dodd and Nick Collins. Everyone wanted to be somewhere warmer, but everyone also had a warm glow after witnessing yet another titanic show of endurance at the Barry 40.
Mick McGeoch
Barry 40 Race Results 2013
| | | |
| --- | --- | --- |
| 1. Pieter Vermeesch | Garden City Runners | 04:08:59 |
| 2. Paul Fernandez | Abingdon Amblers | 04:19:13 |
| 3. Jeremy Mower (V45) | Gloucester AC | 04:56:02 |
| 4. Barrie Jones | Unattached | 05:00:50 |
| 5. Karen Rushton (LV45) | South West Vets AC | 05:04:59 |
| 6. Rasmivan Collinson (V40) | Sri Chinmoy AC | 05:15:31 |
| 7. Robin Gardner (V55) | Road Runners Club | 05:36:23 |
| 8. Phil Adams (V50) | Neath Harriers/100km Assoc | 05:37:03 |
| 9. George Nicholls (V40) | Prestatyn RC | 05:39:02 |
| 10. Will Stockton | Unattached | 05:58:43 |
| 11. Natasha Doyle (LV35) | Virgin Active Cardiff RC | 06:04:51 |
| 12. Jeni Richards (LV45) | Abergele Harriers | 06:08:09 |
| 13. Alan Mann (V55) | Les Croupiers | 06:13:54 |
| 14. James Zarei (V65) | Road Runners Club | 06:30:13 |
For more information about this and forthcoming races at Barry, please visit Les Croupiers Running Club