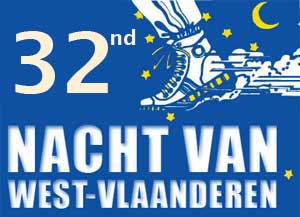 André Mingneau writes:
May we invite you for some Belgian races in 2011?
This year we have the 32° edition of the "Night of Flanders" at Friday night 17 June.
A 10K race, a marathon and a 100K in and around Torhout.
See www.nvv.be.
The finish is situated in the city centre (Town hall) amidst a big crowd of spectators who are enjoying a local musical show programme.
Further more you may note Sunday 11 September for the 13th "In Flanders Fields Marathon": See www.marathons.be ,Almost 100 years of remembrance, you must be there with your friends!!
We shall remember them!
There is also the "Sirenejogging Middelkerke" on Sunday 22 august, the "Marathon Oostende" www.marathonoostende.be on Sunday 9 October and the very beautiful "Kathe Kollwitz 10 miles" in Ypres in October. www.vredesloop.be
Kind regards
André Mingneau