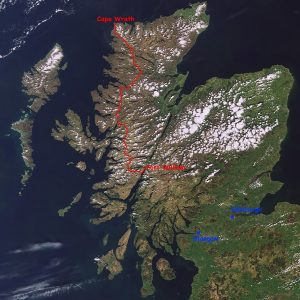 Cape Wrath Ultra™ – Scotland's Expedition Race – Launched 8th Jan 2014
From the team that revived the inspirational Dragon's Back Race™, an extraordinary new adventure has just been announced for June 2016 called the Cape Wrath Ultra™.
Billed as a once in a lifetime ultra-running expedition race, the Cape Wrath Ultra™ will weave 400km through the Highlands of Scotland. Starting in Fort William, the race promises to take competitors on an incredible journey linking ancient footpaths and remote tracks to the furthest northwesterly point of the British Isles, Cape Wrath.
Shane Ohly, one of the race organisers and founder of Ourea Events, describes the route. "Winding through the beautiful lochs, glens and mountains of the Scottish Highlands, the Cape Wrath Ultra™ is an ultra-running expedition through some of the World's most inspirational landscapes, including Morar, Knoydart, Kintail, Torridon, Assynt and Sutherland".
The new race is based on the Cape Wrath Trail, which is considered to be the toughest long distance backpacking trail in the UK. It crosses rugged landscapes, genuine wilderness and has great distances between support points. Hikers usually take at least 20 days to complete the trail and a new Cicerone guidebook published in 2013 has ignited renewed interested in this unofficial long distance footpath.
Ohly continues. "Our Cape Wrath Ultra™ route will be similar to the Cape Wrath Trail but with some important variations as we mold the journey for an ultra-running perspective. Detailed planning has begun and Gary Tompsett has been appointed as the Race Director and Planner". Tompsett is the logical choice for the role, having planned the 2007 Adventure Race World Championships in the same area and having previously worked with Ohly at Rat Race Adventure. Ohly explained, "Living near the Highlands of Scotland, Gary has a deep knowledge of route options, the terrain, the weather, and the endless possibilities for a rich competitor experience".
The race is described as a supported ultra-running expedition, in which competitors' equipment will be transported each day and tented accommodation and all meals provided. This is the same successful formula that Ohly employed when he revived the Dragon's Back Race™ in 2012. Ourea Events claim that the Cape Wrath Ultra™ will be the supreme ultra-running trail race. With a 400km canvas through the Scottish Highlands and Ohly and Tompsett's pedigree in delivering iconic, adventurous and challenging events, who would want to argue!
Entries open in January 2015.
Checkout the Cape Wrath Ultra website